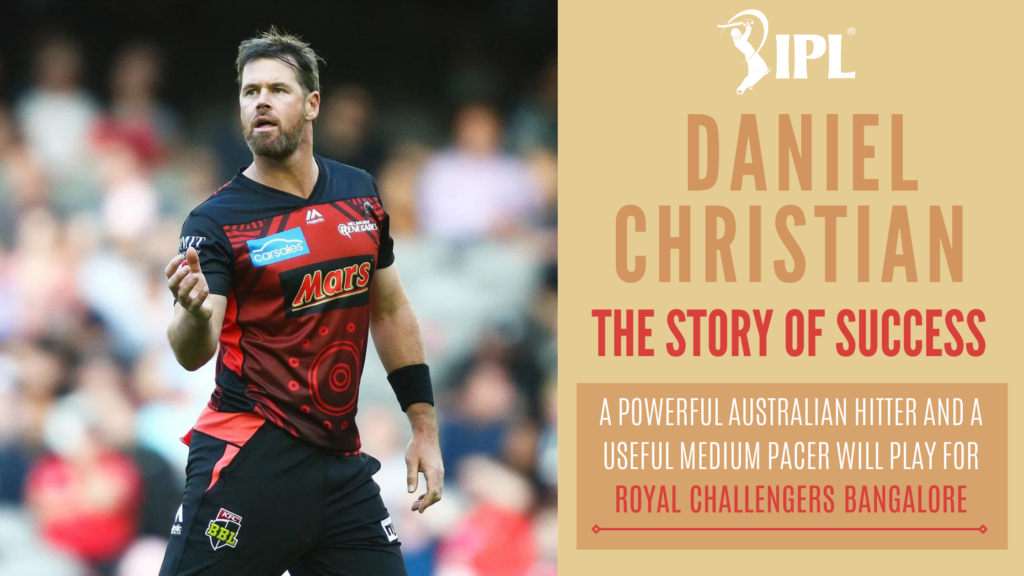 Dan Christian needs no introduction as a cricket player. Royal Challengers Bangalore could no have found better all-rounder than him. He is also a lucky player as he has won many tournaments for the team he has played for so far. Dan is 37 years old cricketer, and hopefully, his international cricketing career is over. However, he represents Victoria and has done many fortunes with the team. His domestic performance is very good, and even at this age, he can smash world-class bowlers.
Despite being so talented and versatile in bowling, he couldn't cement his place in the Australian cricket team. He made his international debut against West Indies in 2010 and, since then his cricketing career in international format was like a roller coaster ride, he couldn't make it a steady one.
IPL History
Dan Christian is not a new name in cricketing history as he has finished a decade in this game. He has played for so many domestic teams and made them become the champion of that particular tournament. If we talk about his IPL career, he has played around 40 matches in this tournament. He was bought by Deccan Chargers in IPL 2011 Auction at a whopping amount of 900000 USD. However, like international cricket, his IPL career was also not so promising.
IPL 2020
In the 2020 season of IPL, he was not purchased by any team, and so he didn't play the IPL in that season.
IPL 2021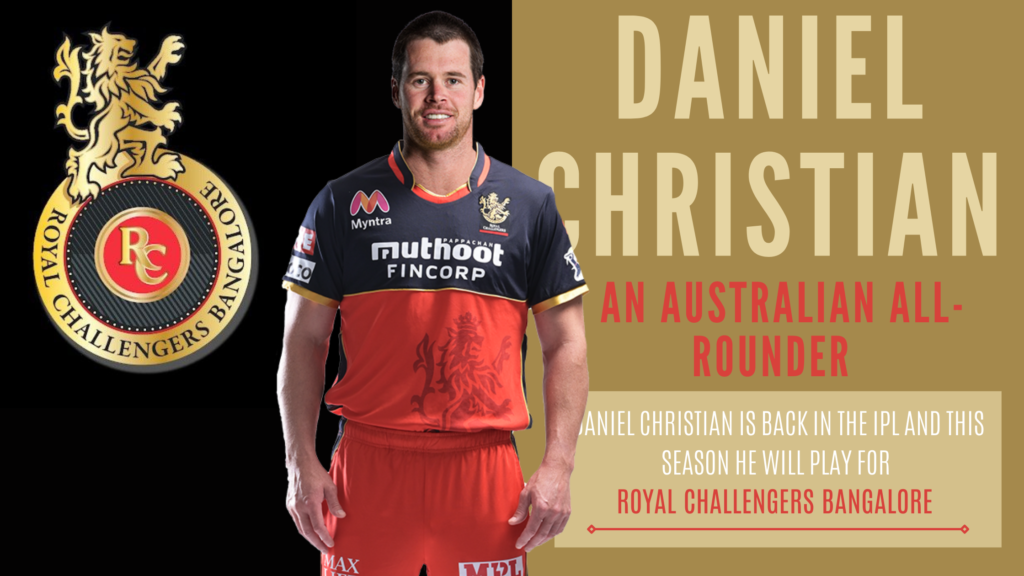 Daniel Christian is back in the IPL as he has been purchased by Royal Challengers Bangalore this season. He has been so fortunate for every that he has played for in the multi-teams tournament, and to end the title drought, Royal Challengers Bangalore team management won't consider too much to take this man in their probable XI.
The Team's He Has Played For
Dan Christian has played for plenty of teams like Hampshire, Victoria, Australia, Deccan Chargers, Brisbane Heat, Middlesex, Hobart Hurricanes, etc. and in IPL 2021 you can see this man playing for Royal Challengers Bangalore.
Personal Life
He is an Australian-born cricketer whose age is 37. His nickname is Siri.
Career Stats
| | | | | | | | | | | | | | | |
| --- | --- | --- | --- | --- | --- | --- | --- | --- | --- | --- | --- | --- | --- | --- |
| Format | Mat | Inns | NO | Runs | HS | Avg | BF | SR | 100 | 50 | 4s | 6s | Cat | St |
| First Class | 83 | 141 | 17 | 3783 | 131 | 30.5 | 7035 | 53.7 | 5 | 16 | 463 | 60 | 90 | 0 |
| ODIs | 19 | 18 | 5 | 273 | 39 | 21 | 307 | 88.9 | 0 | 0 | 23 | 3 | 10 | 0 |
| T20Is | 16 | 7 | 3 | 27 | 9 | 6.7 | 28 | 96.4 | 0 | 0 | 2 | 0 | 5 | 0 |
| | | | | | | | | | | | | | |
| --- | --- | --- | --- | --- | --- | --- | --- | --- | --- | --- | --- | --- | --- |
| Format | Mat | Inns | Balls | Runs | Wkts | BBI | BBM | Avg | Eco | SR | 4w | 5w | 10w |
| First Class | 83 | 134 | 10301 | 5679 | 163 | 5/24 | 9/87 | 34.8 | 3.3 | 63.1 | 7 | 3 | 0 |
| ODIs | 19 | 19 | 727 | 595 | 20 | 5/31 | 5/31 | 29.7 | 4.9 | 36.3 | 0 | 1 | 0 |
| T20Is | 16 | 16 | 213 | 317 | 11 | 3/27 | 3/27 | 28.8 | 8.9 | 19.3 | 0 | 0 | 0 |