Harbhajan Singh is a popular Indian cricket player, who plays all formats of the game. Harbhajan is a specialized right-arm spin bowler. Behind Muttiah Muralitharan, he has the second-highest number of Test wickets in cricket history.
Early Personal Life
Harbhajan Singh was born on 3rd July 1980. He was born into a Sikh family. His father is Sardar Sardev Singh Plaha. His father is a businessman, the owner of a ball bearing, and a valve factory. Harbhajan is the only son of his father. Initially, Harbhajan Singh was trained as a batsman. But after he converted from batting to spin bowling. His father died in 2000 and he became the family head. He arranged three of his sisters in 2001. For his performance in 2001 against Australia, he was awarded Rs.5 lakhs, a land, and an offer to become the Deputy Superintendent of Police by the Punjab Government.
He became an officer in Punjab police and has held the rank of Superintendent of police. When he failed to declare that he had filthy boots in his luggage, he was caught at Auckland Airport. Outside India, one of his common nicknames is "The Turbanator " as he wears a turban whenever he plays. Among Indians, Harbhajan was commonly called as Bhajji. After a long time, he married his girlfriend Geeta Basra on 19th October 2015. The cute couple has a daughter named Hinaya Heer Plaha.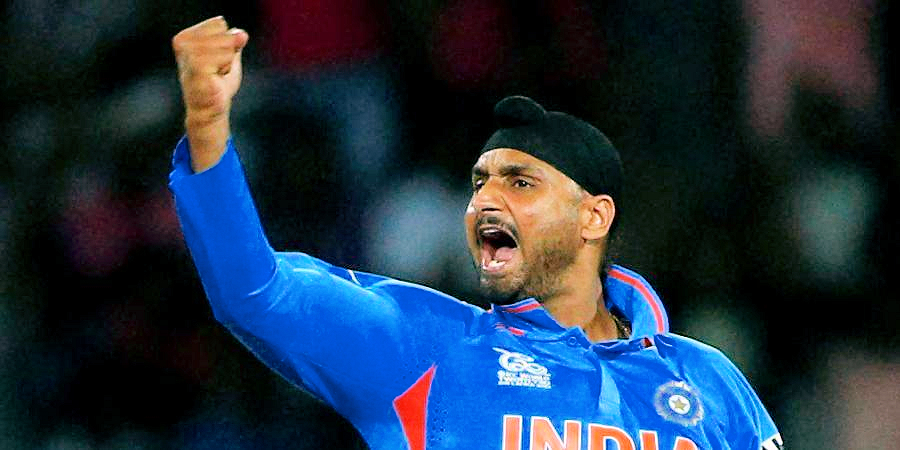 Playing Style
Harbhajan is very famous for his ability to vary his length, pace, and his ball control. In November 1998, he was reported for his throwing with a whippy bowling action. He is the second-highest wicket-taker in test history among all the off-spinners. His bowling rate increases to 40 outside of India. Harbhajan also focused on batting with the 60s test striking rates. Harbhajan is placed among the top-rated players who have scored more than 1000 runs in test cricket. Harbhajan Singh became the first Indian bowler to take the hat-trick in test cricket by taking 32 wickets.
Test Wicket Milestone
1st – Greg Blewett (Australia)
50th – Ricky Ponting (Australia)
100th – Wavell Hinds (West Indies)
150th – Nathan Astle (New Zealand)
200th – Charles Coventry (Zimbabwe)
250th – Ricky Ponting (Australia)
300th – Ricky Ponting (Australia)
350th – JP Duminy (South Africa)
400th – Carlton Baugh (West Indies)
International Information
Harbhajan Singh made his first test debut on 25th March 1998 against Australia. He made his last test debut against Sri Lanka on 12th August 2015. His first ODI match was against New Zealand on 17th April 1998. He played his ODI match on 25th October 2015 against South Africa. He played his last ODI match with his favorite shirt number "3". On 1st December 2006, he played his first T20I debut against South Africa.
Harbhajan played his last T20I match with his number 3 shirt against United Arab Emirates (UAE) on 4th December 2016. He was a captain of the Mumbai Indians and Punjab team in IPL matches for 2012 – 2013. Harbhajan made 417 wickets in test matches and 269 wickets in ODI matches and 20 wickets in T20I matches. He scored 2,224 runs in test matches and 1,237 runs in ODI matches and 108 runs in T20I matches in his cricket life.