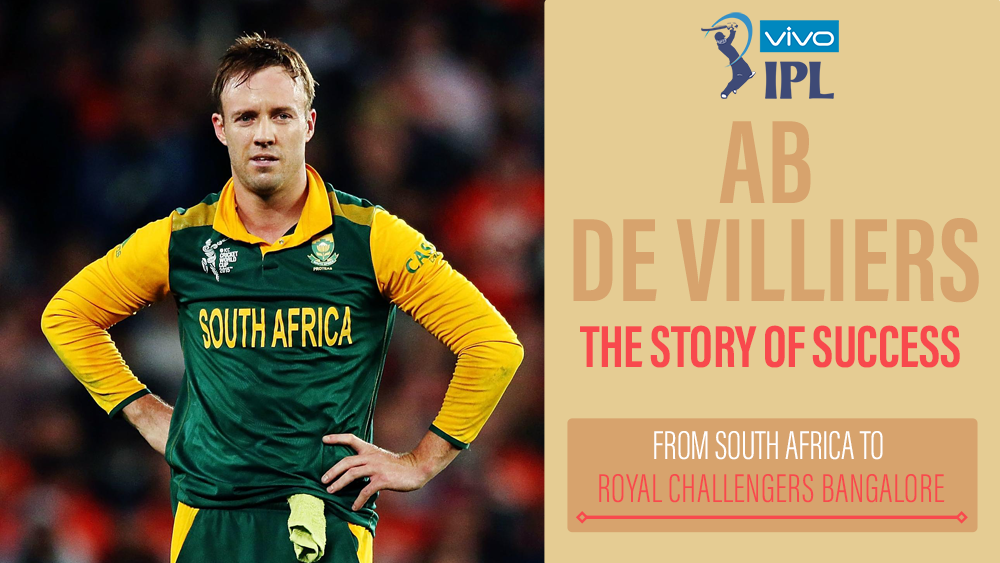 When it comes to the team strength of RCB or Royal Challengers Bangalore, every fan loves to watch the batting of Mr. 360° aka AB de Villiers. After Virat Kohli, if anyone is there to trust, undoubtedly, he is AB de Villiers. No one in this world who loves cricket and doesn't know AB de Villiers. This amazing gem player has won various awards among which the 2010 ICC ODI Player of the Year Award, the 2014 ICC ODI Player of the Year Award and the 2015 ICC ODI Player of The Year Award are popular. Let's see a small portion of his great career in the Indian Premier League.
IPL History
Surprisingly, despite having such a gem player, RCB didn't win a single Cup throughout the History of IPL. But when it comes to sports, performances, RCB players, especially AB de Villiers had never made his fans disappointed. Till now, he has played a total of 154 matches in IPL. With an amazing strike rate of 151.23 and an average of 39.95, he successfully made 4849 runs till now. A total of 33 half-centuries and 3 centuries are included in the 4849 runs. In 2015, AB de Villiers made his highest 133 runs against Mumbai Indians.
IPL 2020
Due to the covid-19 situation, the IPL season was placed in UAE. He made a total of 454 runs throughout the season. His highest score for the IPL 2020 was 73 runs with a 45.4 average and a 158.7 strike rate.
IPL 2021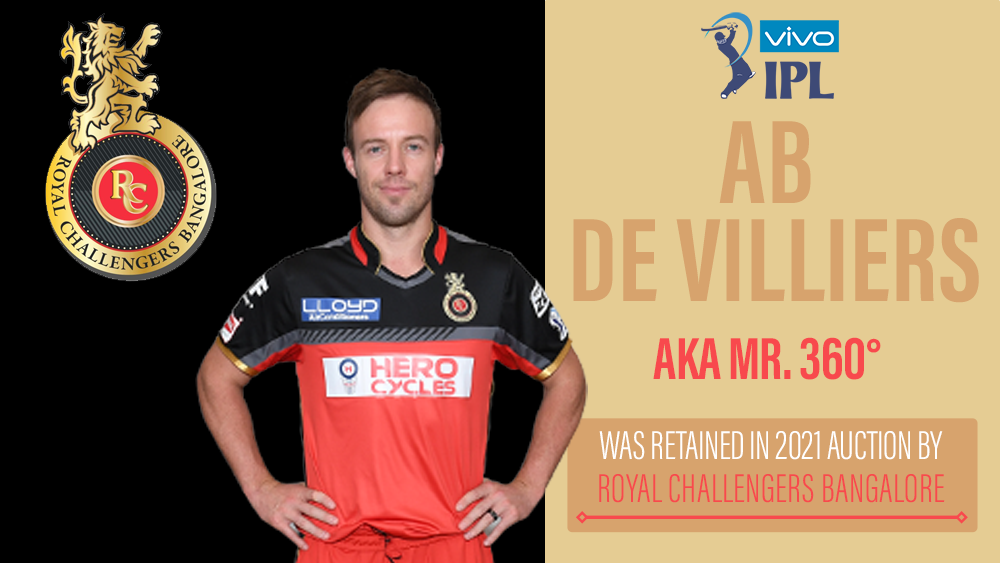 IPL 2021 is going to be held in India this year. On the 9th day of April 2021, the first match of RCB was played again by Mumbai Indians. A few days before, when the auction was placed for 2021, he was retained by RCB.
The Team He Has Played for:
He has been playing for Royal Challengers Bangalore since 2011. For the first three seasons, he played for Delhi Daredevils. Apart from IPL, he plays for the South African National Team. He also played for some domestic teams like Middlesex, Tshwane Starters, Rangpur Riders, Brisbane Heat, and Lahore Qalandars.
AB de Villiers's Personal Life
On 17th February 1984, he was born in Bela Bela in South Africa. His father was a member of the Rugby Union team. His father encouraged him to be a great sportsman. Now, He is an all-rounder in cricket. For his batting, he is known as Mr. 360°. He is a right-handed batsman, a right-handed middle bowler, and a great wicket-keeper. Apart from being in cricket, he also loves to play guitar. He has released a pop album of himself. It showed great results.
Career Stats
Batting and Fielding
| | | | | | | | | | | | | | | |
| --- | --- | --- | --- | --- | --- | --- | --- | --- | --- | --- | --- | --- | --- | --- |
| Format | Mat | Inns | NO | Runs | HS | Avg | BF | SR | 100 | 50 | 4s | 6s | Cat | St |
| First Class | 141 | 238 | 23 | 10689 | 278 | 49.71 | 19026 | 56.18 | 25 | 60 | – | – | 275 | 6 |
| ODIs | 228 | 218 | 39 | 9577 | 176 | 53.50 | 9473 | 101.09 | 25 | 53 | 840 | 204 | 176 | 5 |
| T20Is | 78 | 75 | 11 | 1672 | 79 | 26.12 | 1237 | 135.16 | 0 | 10 | 140 | 60 | 65 | 7 |
Bowling
| | | | | | | | | | | | | | |
| --- | --- | --- | --- | --- | --- | --- | --- | --- | --- | --- | --- | --- | --- |
| Format | Mat | Inns | Balls | Runs | Wkts | BBI | BBM | Avg | Eco | SR | 4w | 5w | 10w |
| First Class | 141 | | 234 | 138 | 2 | 2/49 | | 69.00 | 3.53 | 117.0 | 0 | 0 | 0 |
| ODIs | 228 | 9 | 192 | 202 | 7 | 2/15 | 2/15 | 28.85 | 6.31 | 27.4 | 0 | 0 | 0 |
| T20Is | 78 | 0 | 0 | 0 | 0 | 0 | 0 | 0 | 0 | 0 | 0 | 0 | 0 |