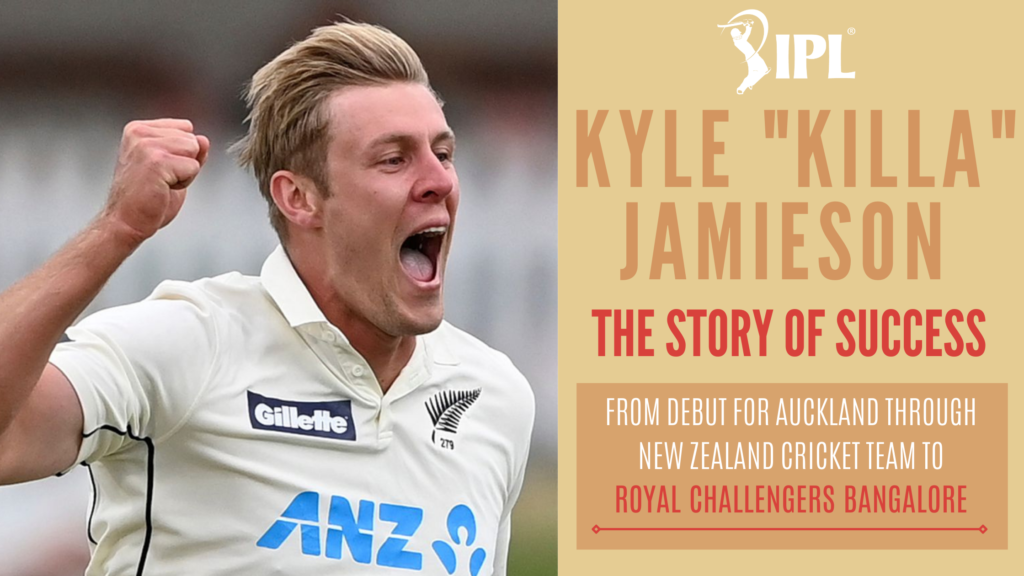 A tall 6 ft 6 inches bowler when bowls at a speed of 140+ Kph, any batsman will be fearful of such bowlers. Having such height, he can generate some awkward bounce and he is gifted with pace. His bowling style and tall height made the task difficult for any batsman. Yes, we are talking about Kyle Jamieson, also known as Killa by his teammates. He bowls right-arm fast, and now he became a permanent member of the New Zealand cricket team. Kyle's hometown is in Auckland and he made his first-class debut for Auckland. He announced his presence in the International cricket in February 2020 against India and took wickets of Indian good batsmen.
In this year of IPL, he has been purchased by Royal Challengers Bangalore, and he is looking pretty confident to make his IPL debut.
IPL History
This tall fast bowler is the future of New Zealand cricket and looking very confident with his performance for the national cricket team. Despite having so much talent and enthusiasm, he did not play in the biggest domestic cricket league yet. However, he is now in the team of Royal Challengers Bangalore. They have bought him for 15 crores rupees, and he is almost certain to take his place in the playing XI.
IPL 2020
In the 2020 season of IPL, he was not purchased by any team, and so he didn't play the IPL in that season.
IPL 2021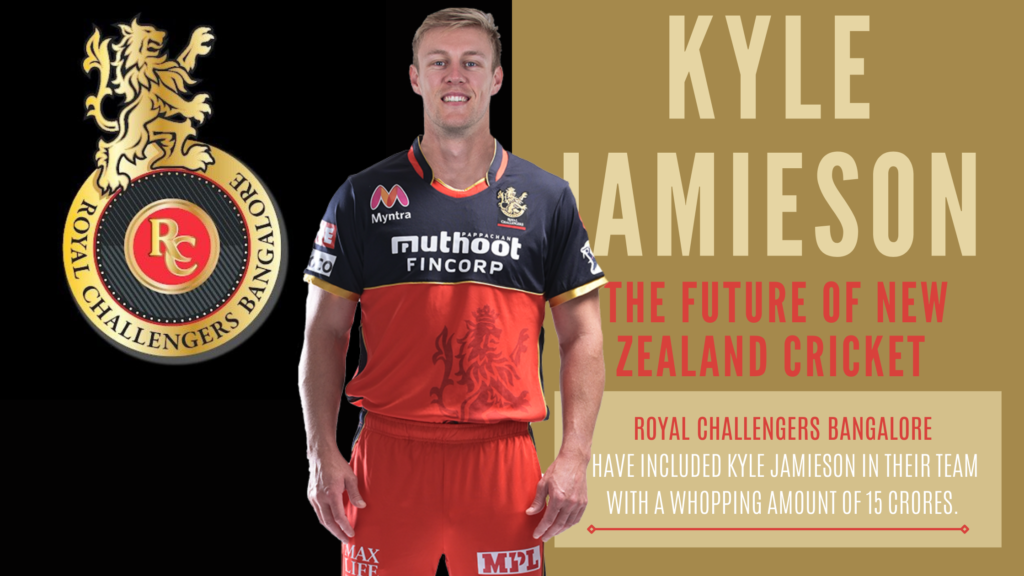 When the IPL 2021 auction was finished, he became the 2nd highest player in terms of prize money he has been picked. Royal Challengers Bangalore have included this pacer in their team with a whopping amount of 15 crores. Now the question is, whether he will be available for the whole tournament or not.
The Team's He Has Played For
Kyle Jamieson has played for Canterbury, New Zealand, New Zealand Under-19, and Auckland but, this year in IPL 2021 he can make his IPL debut by playing for Royal Challengers Bangalore.
Personal Life
Kyle Jamieson is a Kiwi cricketer, and he is known as Killa among his mates.
Career Stats
| | | | | | | | | | | | | | | |
| --- | --- | --- | --- | --- | --- | --- | --- | --- | --- | --- | --- | --- | --- | --- |
| Format | Mat | Inns | NO | Runs | HS | Avg | BF | SR | 100 | 50 | 4s | 6s | Cat | St |
| Tests | 6 | 6 | 2 | 226 | 51 | 56.5 | 320 | 70.6 | 0 | 1 | 19 | 9 | 2 | 0 |
| ODIs | 2 | 1 | 1 | 25 | 25 | 25 | 24 | 104.1 | 0 | 0 | 1 | 2 | 2 | 0 |
| T20Is | 8 | 4 | 2 | 41 | 30 | 20.5 | 27 | 151.8 | 0 | 0 | 7 | 0 | 3 | 0 |
| | | | | | | | | | | | | | |
| --- | --- | --- | --- | --- | --- | --- | --- | --- | --- | --- | --- | --- | --- |
| Format | Mat | Inns | Balls | Runs | Wkts | BBI | BBM | Avg | Eco | SR | 4w | 5w | 10w |
| Tests | 6 | 12 | 1202 | 478 | 36 | 6/48 | 11/117 | 13.27 | 2.38 | 33.3 | 1 | 4 | 1 |
| ODIs | 2 | 2 | 120 | 95 | 3 | 2/42 | 2/42 | 31.6 | 4.7 | 40 | 0 | 0 | 0 |
| T20Is | 8 | 8 | 172 | 281 | 4 | 2/15 | 2/15 | 70.2 | 9.8 | 43 | 0 | 0 | 0 |