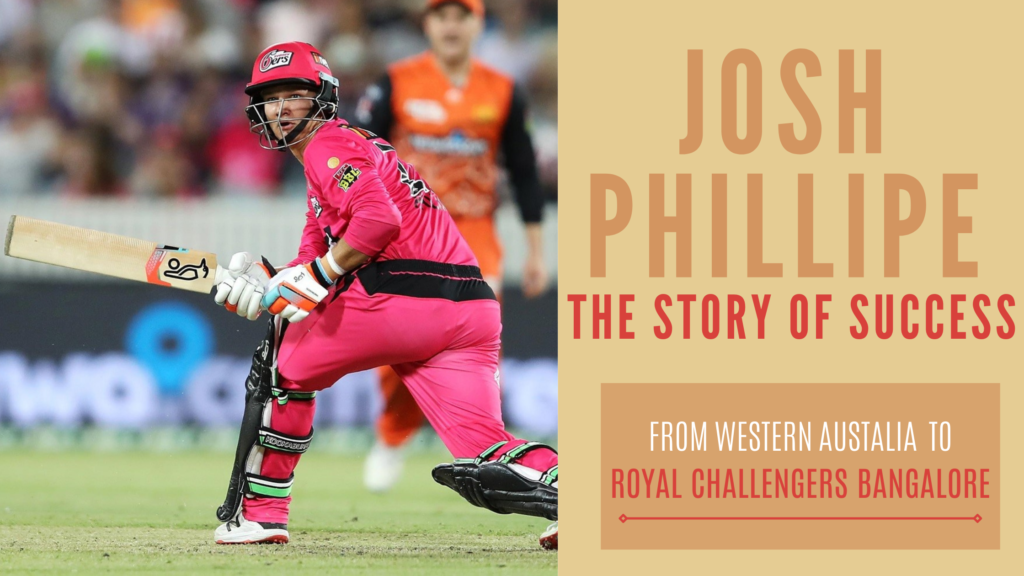 Royal Challengers Bangalore were always looking for a batsman who can share hands with AB De Villiers. Joshua Phillipe is such promising player who is so talented. He played for Western Austalia and scored a thumping half century in his debut match against Tasmania. He scored another 50+ score in the very next match, and that is the reason why Royal Challengers Bangalore's department showed a huge trust on this player. Let's know in brief about this freely strokeplaying player.
IPL History
Joshua Phillipe has proven his talent on BBL when he made his debut for Perth Scorchers, he played so many good innings in that season. He was purchased by Royal Challengers Bangalore in the 2020 IPL season but he could not perform as expected. In the 2021 season, he has been retained by the team, and it will be interesting to see how he performs this year.
IPL 2020
In the 2020 season of IPL, he got to play only 5 matches in which he scored only 78 runs. He was also promoted as opener, but could not play better cricket.
IPL 2021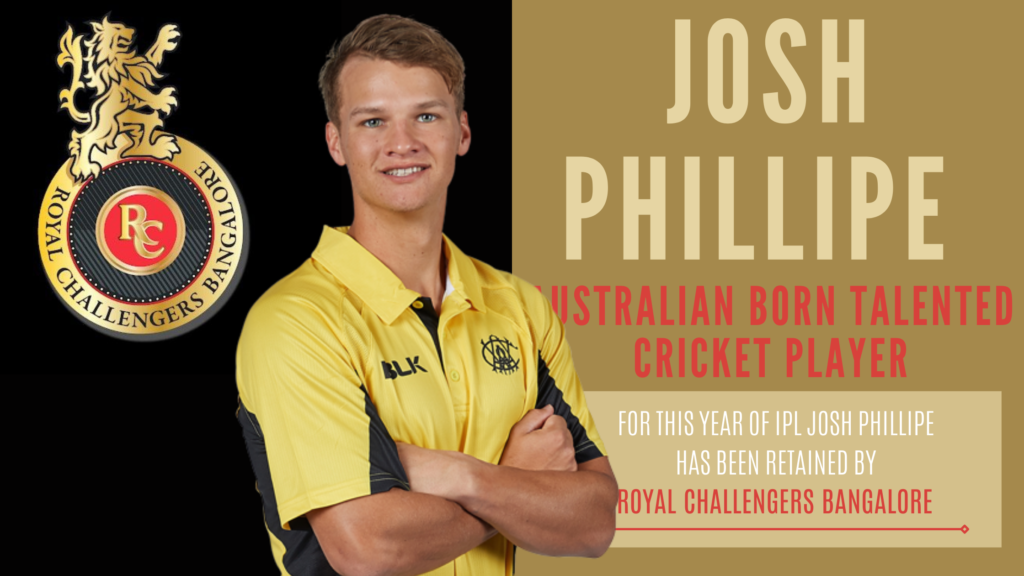 He has been retained by Royal Challengers Bangalore for this year of IPL and it will be quite interesting to see his performance in this year of IPL.
The Team's He Has For
Joshua Phillipe has played for different teams and those are Western Australia, Perth Scorchers, Cricket Australia, Prime Minister XI, Royal Challengers Bangalore, Sydney Sixers, Finch XI, Cummins XI, and Australia.
Personal Life
Joshua Phillipe was born on June 1 in the year 1997, he is a young player and is still unmarried.
Career Stats
| | | | | | | | | | | | | | | |
| --- | --- | --- | --- | --- | --- | --- | --- | --- | --- | --- | --- | --- | --- | --- |
| Format | Mat | Inns | NO | Runs | HS | Avg | BF | SR | 100 | 50 | 4s | 6s | Cat | St |
| First Class | 19 | 36 | 1 | 988 | 104 | 28.2 | 1638 | 60.3 | 1 | 7 | 142 | 4 | 17 | 0 |
| List A | 13 | 13 | 0 | 446 | 65 | 34.3 | 399 | 111.7 | 0 | 5 | 56 | 12 | 16 | 2 |
| T20s | 58 | 58 | 9 | 1489 | 95 | 30.3 | 1081 | 137.7 | 0 | 10 | 146 | 42 | 31 | 8 |
| T20Is | 5 | 5 | 0 | 105 | 45 | 21 | 87 | 120.7 | 0 | 0 | 6 | 4 | 0 | 0 |
| | | | | | | | | | | | | | |
| --- | --- | --- | --- | --- | --- | --- | --- | --- | --- | --- | --- | --- | --- |
| Format | Mat | Inns | Balls | Runs | Wkts | BBI | BBM | Avg | Eco | SR | 4w | 5w | 10w |
| First Class | 19 | 0 | 0 | 0 | 0 | 0 | 0 | 0 | 0 | 0 | 0 | 0 | 0 |
| List A | 13 | 0 | 0 | 0 | 0 | 0 | 0 | 0 | 0 | 0 | 0 | 0 | 0 |
| T20s | 58 | 0 | 0 | 0 | 0 | 0 | 0 | 0 | 0 | 0 | 0 | 0 | 0 |
| T20Is | 5 | 0 | 0 | 0 | 0 | 0 | 0 | 0 | 0 | 0 | 0 | 0 | 0 |