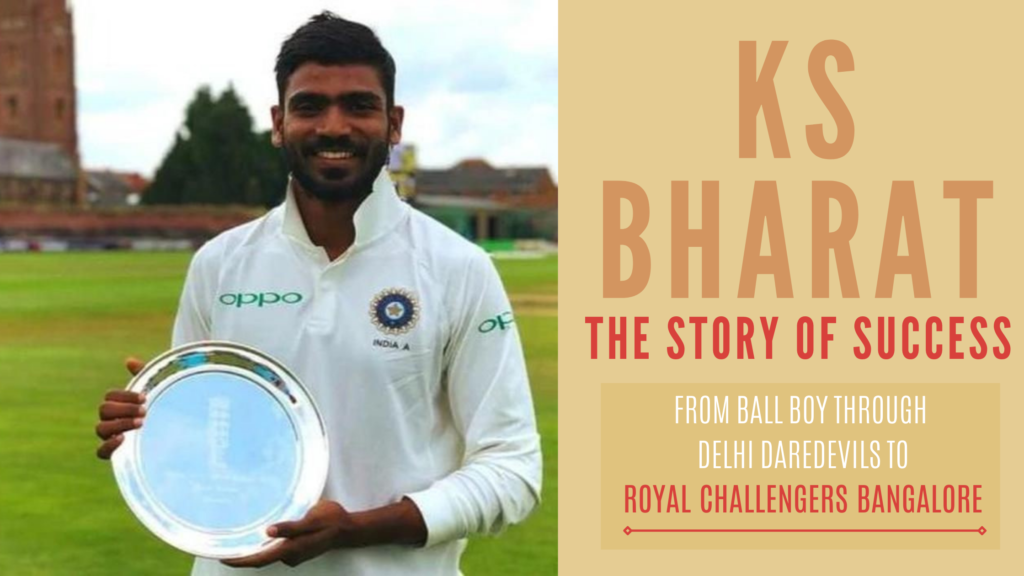 K S Bharat belongs to Vizag and a wicket keeper batsman of Andhra Pradesh Cricket team. He was born on 3rd October in 1993. The story of this batsman is quite interesting as he used to be a ball boy before he came into the cricket field.
In the 2015 Ranji season, he became the only wicket keeper batsman to score triple hundred. After a few months of this inning, he was purchased by Delhi Daredevils at his base price of 10 lakh rupees. He was also selected as a back-up wicket keeper in the Indian team to support Wridhhiman Saha but, unfortunately he could not make into the playing. He also got a chance in the Indian ODI team after Risabh Pant suffered a concussion in 2020.
IPL History
K S Bharat is filled with talent there is no doubt in that, but he didn't get enough chances to prove his worth in the IPL. He was first purchased by Delhi Daredevils in 2015. But, he didn't get any games to play in the IPL. In this year of IPL, he has been purchased by Royal Challengers Bangalore at the base price of 20 lacs. It will be interesting to see whether he will get any chance in the team or not.
IPL 2020
He didn't play the IPL 2020 edition as he did not get any team under his name in the Vivo IPL 2020 auction.
IPL 2021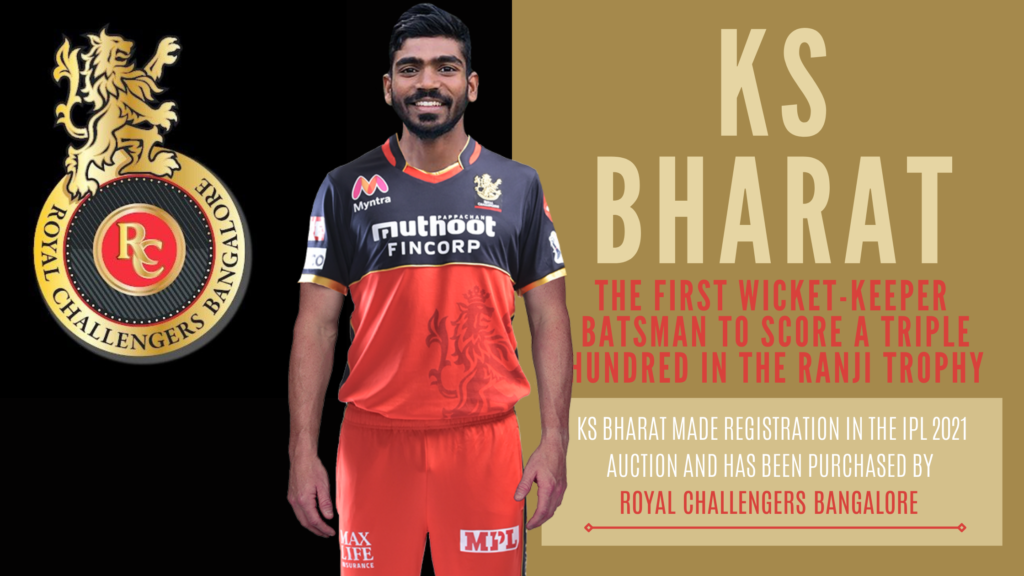 After the 2020 IPL season when he went unsold in the auction, Bharat made registration in the IPL 2021 player auction, and he has been purchased by Royal Challengers Bangalore at his base price of 20 lacs. Now it will be interesting to see how he can make himself to the playing eleven as a wicketkeeper, Joshua Phillipe has pulled his name from the team so Bharat might be selected in the team this year.
The Team's He Has For
He has played for Andhra Pradesh, East Zone, Delhi Daredevils, South Zone, India Red, India Blue, India A, India B, Royal Challengers Bangalore, and India
Personal Life
Srikar Bharat got married in August 2020, and his spouse's name is Anjali Nedunuri.
Career Stats
| | | | | | | | | | | | | | | |
| --- | --- | --- | --- | --- | --- | --- | --- | --- | --- | --- | --- | --- | --- | --- |
| Format | Mat | Inns | NO | Runs | HS | Avg | BF | SR | 100 | 50 | 4s | 6s | Cat | St |
| First Class | 78 | 123 | 8 | 4283 | 308 | 37.2 | 7193 | 59.5 | 9 | 23 | 534 | 78 | 270 | 31 |
| List A | 51 | 51 | 3 | 1351 | 125 | 28.1 | 1937 | 69.7 | 3 | 5 | 139 | 17 | 54 | 11 |
| T20s | 48 | 44 | 3 | 730 | 76 | 17.8 | 688 | 106.1 | 0 | 3 | 63 | 29 | 36 | 10 |
| | | | | | | | | | | | | | |
| --- | --- | --- | --- | --- | --- | --- | --- | --- | --- | --- | --- | --- | --- |
| Format | Mat | Inns | Balls | Runs | Wkts | BBI | BBM | Avg | Eco | SR | 4w | 5w | 10w |
| First Class | 78 | 0 | 0 | 0 | 0 | 0 | 0 | 0 | 0 | 0 | 0 | 0 | 0 |
| List A | 51 | 0 | 0 | 0 | 0 | 0 | 0 | 0 | 0 | 0 | 0 | 0 | 0 |
| T20s | 48 | 0 | 0 | 0 | 0 | 0 | 0 | 0 | 0 | 0 | 0 | 0 | 0 |