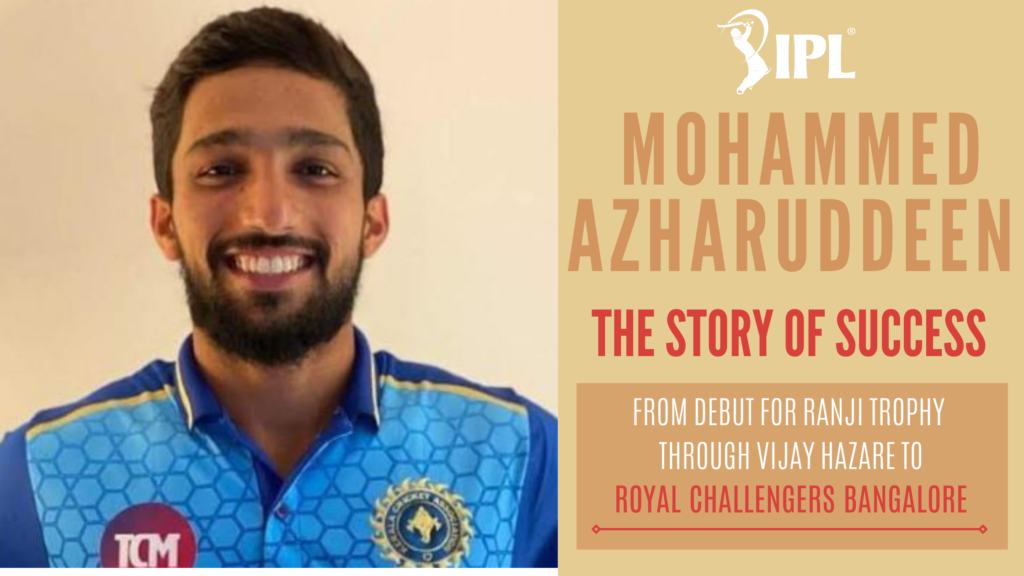 India had already seen a player named MD. Azharuddin who did quite better for Indian cricket, and now with the same name, a new young prodigy is knocking on the door of Indian cricket to show his blistering batting skills. He is a right-handed batsman who plays for Kerala in domestic cricket. But, he is a natural stroke player like Rohit Sharma, who can decimate any opposition on his day. His elder brother named him Mohammed Azharuddeen as he was his big fan.
He made his domestic cricket debut in the year 2015-16. Moreover, in this season of Syed Mushtaq Ali Twenty 20 tournament, he became the only player for Kerala to score a T20 hundred. He scored this hundred just by sparing 37 balls. He got rewards for this inning and has been bought by Royal Challengers Bangalore this year.
IPL History
Mohammed Azharuddeen is an attacking player and he has been made to play such kind of attacking cricket. When it comes to T20 cricket, his ability perfectly matches this format and he has proven this by scoring an attacking 137 runs against Mumbai. However, he did not get to play on the biggest stage like IPL yet, and he will make his debut this year in the Indian Premier League.
IPL 2020
In the 2020 season of IPL, he did not get selected by any of the team and so he did not play in IPL 2020 season.
IPL 2021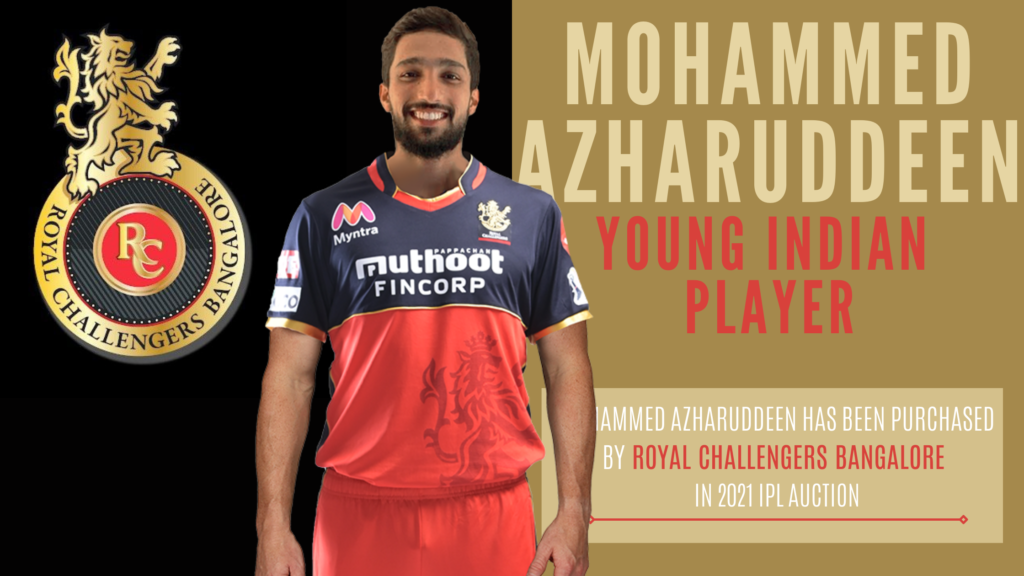 Mohammed Azharuddeen has been purchased by Royal Challengers Bangalore in this year's IPL auction. It is almost certain that by his stroke playing ability he is definitely going to take his place in the playing XI.
The Team's He Has Played For
Mohammed Azharuddeen has played for only Kerala so far, but this year in IPL 2021 he is going to make his IPL debut by playing for Royal Challengers Bangalore.
Personal Life
Mohammed Azharuddeen is a Kerala-born cricketer and he is just 26 years old.
Career Stats
| | | | | | | | | | | | | | | |
| --- | --- | --- | --- | --- | --- | --- | --- | --- | --- | --- | --- | --- | --- | --- |
| Format | Mat | Inns | NO | Runs | HS | Avg | BF | SR | 100 | 50 | 4s | 6s | Cat | St |
| First Class | 22 | 37 | 0 | 959 | 112 | 25.9 | 1504 | 63.7 | 1 | 5 | 121 | 15 | 59 | 8 |
| List A | 30 | 28 | 5 | 585 | 73 | 25.4 | 602 | 97.1 | 0 | 5 | 55 | 16 | 25 | 3 |
| T20s | 24 | 22 | 2 | 451 | 137 | 22.5 | 317 | 142.2 | 1 | 0 | 30 | 27 | 19 | 0 |
| | | | | | | | | | | | | | |
| --- | --- | --- | --- | --- | --- | --- | --- | --- | --- | --- | --- | --- | --- |
| Format | Mat | Inns | Balls | Runs | Wkts | BBI | BBM | Avg | Eco | SR | 4w | 5w | 10w |
| First Class | 22 | 0 | 0 | 0 | 0 | 0 | 0 | 0 | 0 | 0 | 0 | 0 | 0 |
| List A | 30 | 0 | 0 | 0 | 0 | 0 | 0 | 0 | 0 | 0 | 0 | 0 | 0 |
| T20s | 24 | 0 | 0 | 0 | 0 | 0 | 0 | 0 | 0 | 0 | 0 | 0 | 0 |