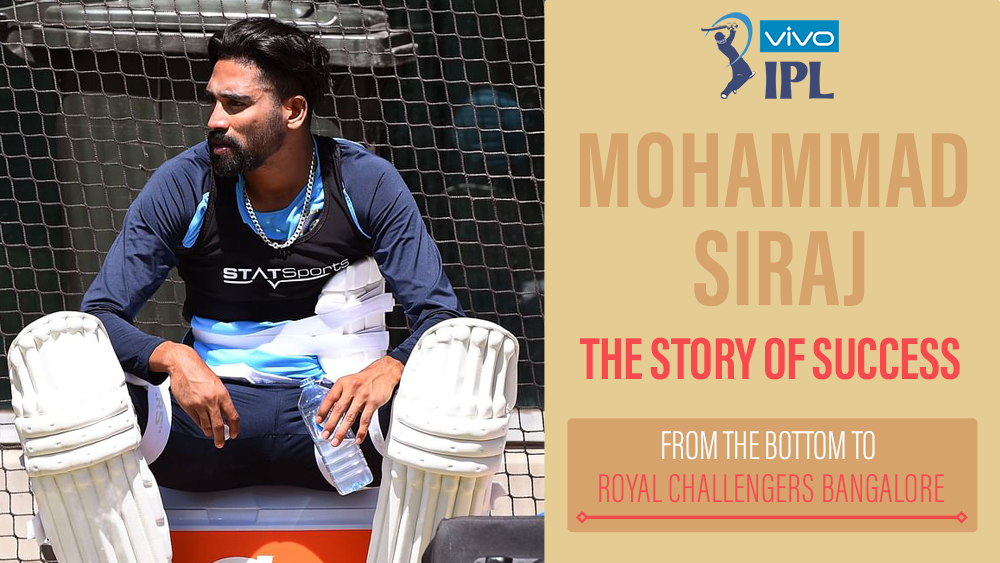 A son of an auto-rickshaw driver proved himself what he is capable of and showing the world, nothing can stop a raw talent. When Sunrisers Hyderabad bought him for 2 crore INR, it made the whole of India stunned for a second. However, the experienced eyes of the franchise didn't make a single mistake by choosing this gem player. In 2016, he proved himself as a capable bowler while representing team India. In the 2016-17 Ranji Trophy tournament, he again proved himself. This time he became the highest wicket-taker of Ranji Trophy, 41 for only 11 matches. Later on, he was selected by RCB for 2.2 crores INR.
IPL History
For a new player in cricket, facing all the international players at once is quite tough. However, within this tough situation, Mohammad Siraj did well with Sunrisers Hyderabad. Sunrisers Hyderabad bought him for 2.6 crores though his base price was 20 lacs. With the team, he didn't get too many opportunities to show his skills however catch everyone's attention by picking up 10 wickets. In the very next season, he started to play for RCB. RCB fought with 4 other teams in the auction to buy Mohammad Siraj. However, after being in the team of Virat Kohli, he never changed his team till now.
IPL 2020
As he does not specialize in batting, his score is average. He has scored only 17 runs by playing 2 matches. However, he has a good record of taking wickets. In 2020, he took 11 wickets.
IPL 2021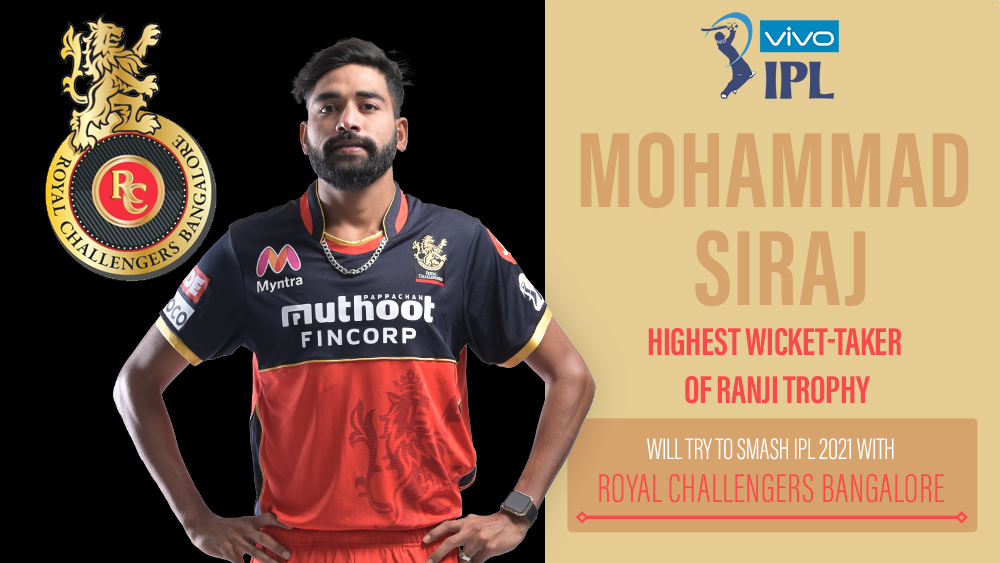 As IPL 2021 is going to be held in India, everyone is expecting to have a great performance from him on his home ground. He is a right-handed fast bowler and willing to keep his form for the season.
The Team He Played for
Up to now, he has played for only 3 domestic teams. He started his journey with Hyderabad then he joined Sunrisers Hyderabad to play IPL up to 2015. From the next seasons to now, he is playing for Royal Challengers Bangalore under Virat Kohli's captaincy. Other than this, he represented team India in ODI, T20Is, FCs, and test matches.
Personal Life
Mohammad Siraj was born on 13th March 1994 in Hyderabad. He started his journey in cricket as a fast bowler and kept on improving it every second of his life. He fought against his life problems from the very beginning. His father was an auto-rickshaw driver and his mother was a housewife. Still, he didn't stop watching dreams and putting effort into them. However, the results can be seen now.
Player's Stat
Batting and Fielding
| | | | | | | | | | | | | | | |
| --- | --- | --- | --- | --- | --- | --- | --- | --- | --- | --- | --- | --- | --- | --- |
| Format | Mat | Inns | NO | Runs | HS | Avg | BF | SR | 50 | 100 | 4s | 6s | Cat | St |
| First Class | 43 | 54 | 8 | 361 | 46 | 7.84 | 642 | 56.23 | 0 | 0 | 45 | 12 | 9 | 0 |
| ODIs | 1 | 0 | 0 | 0 | 0 | 0 | 0 | 0 | 0 | 0 | 0 | 0 | 0 | 0 |
| T20Is | 3 | 0 | 0 | 0 | 0 | 0 | 0 | 0 | 0 | 0 | 0 | 0 | 1 | 0 |
Bowling
| | | | | | | | | | | | | | |
| --- | --- | --- | --- | --- | --- | --- | --- | --- | --- | --- | --- | --- | --- |
| Format | Mat | Inns | Balls | Runs | Wkts | BBI | BBM | Avg | Eco | SR | 4w | 5w | 10w |
| First Class | 43 | 77 | 7799 | 4016 | 168 | 8/59 | 11/136 | 23.90 | 3.08 | 46.4 | 13 | 5 | 2 |
| ODIs | 1 | 1 | 60 | 76 | 0 | 0 | 0 | 0 | 7.60 | 0 | 0 | 0 | 0 |
| T20Is | 3 | 3 | 72 | 148 | 3 | 1/45 | 1/45 | 49.33 | 12.33 | 24.0 | 0 | 0 | 0 |