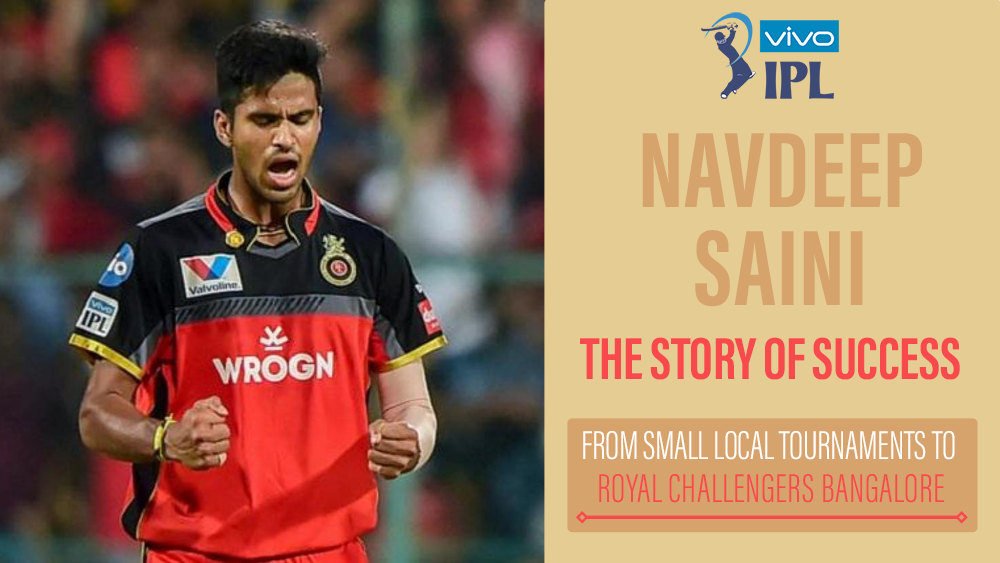 As the India team is giving opportunities to new players, more and more exclusive bowlers are showing their talents. One of them is Navdeep Saini. During the 2017-18 Delhi Ranji Trophy tournament, Navdeep Saini showed a great result through his bowling. This right-hand medium bowler is capable of taking wickets within a minute. He took almost 34 wickets and defeated Vidarbha in the Ranji Trophy finals. RCB has won this young talent for 3 crore INR. The main reason why he is selected is that his swing and accuracy are amazing other than pace.
IPL History
His journey of Indian Premier League started with Delhi Daredevils. Delhi Daredevils bought him for 10 lacs only. In 2017, he showed a great performance in the 2017 IPL which was his first. From the very next season, teams were trying to acquire this young talent for their team. However, Royal Challengers Bangalore won this for 3 crores. Since then Navdeep Saini has been playing for Royal Challengers Bangalore till now. At first, his performance was mesmerizing that ever needed to buy him. However, there is a sudden drop in his performance which has been seen on IPL 2020.
IPL 2020
IPL 2020 was not too good Navdeep Saini. He scored 27 runs in 2 matches. Though he is not a batsman, the score is not too great. However, if you look at his bowling in the 2020 IPL, he took only 6 wickets so far and gave 379 runs.
IPL 2021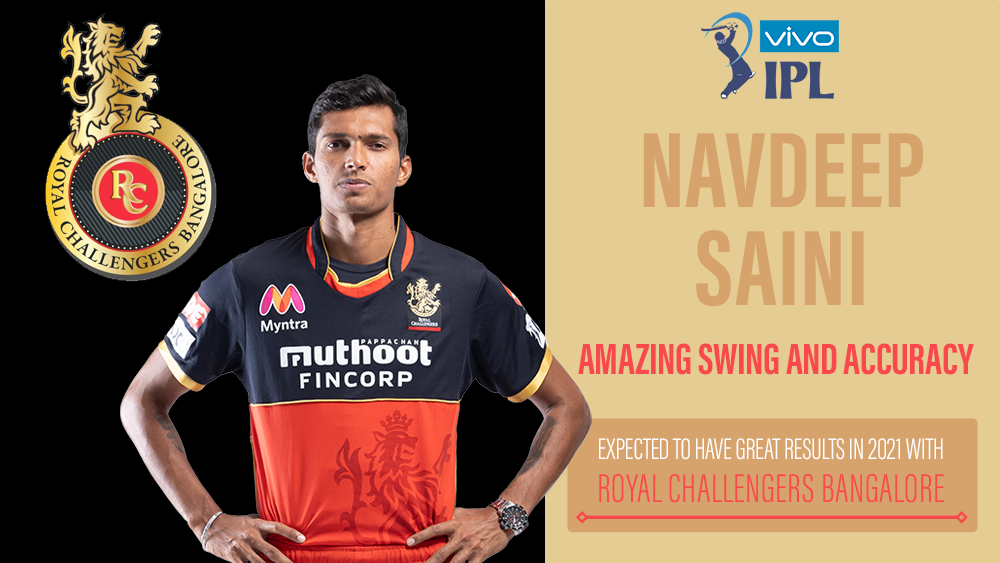 Navdeep Saini has been retained by Royal Challengers Bangalore. As he is under Virat Kohli's captaincy for so long, it is expected to have great results in 2021.
The Teams He Played for
When he was playing for Ranji Trophy, he was teaming up with Delhi. And then he joined Royal Challengers Bangalore when in IPL. He has no other record in domestic crickets. Some small tournaments like Vijay Hazare Trophy, Deodhar Trophy were being played by him. He also showed a great performance when in the 2019 world cup. Apart from these, he was in ODIs and T20Is.
Personal Life
Naveed Saini's full name is Navdeep Amarjeet Saini. He was born on 23rd November 1992 in Haryana, India. He started his journey as a right-handed fast bowler. He is a right-handed batsman too. His family members have great contributions to India. As his grandfather was in INA and helped India to get freedom. Again, his father is a government serviceman. Everyone expecting his results will be more interesting in recent days. Let's wait for the 2021 IPL.
Player's Stat
Batting and Fielding
| | | | | | | | | | | | | | | |
| --- | --- | --- | --- | --- | --- | --- | --- | --- | --- | --- | --- | --- | --- | --- |
| Format | Mat | Inns | NO | Runs | HS | Avg | BF | SR | 50 | 100 | 4s | 6s | Cat | St |
| First Class | 48 | 49 | 20 | 269 | 42 | 9.27 | 628 | 42.83 | 0 | 0 | 35 | 2 | 14 | 0 |
| ODIs | 7 | 4 | 3 | 92 | 45 | 92.00 | 100 | 92.00 | 0 | 0 | 9 | 3 | 3 | 0 |
| T20Is | 10 | 2 | 2 | 11 | 11 | – | 10 | 110.00 | 0 | 0 | 2 | 0 | 3 | 0 |
Bowling
| | | | | | | | | | | | | | |
| --- | --- | --- | --- | --- | --- | --- | --- | --- | --- | --- | --- | --- | --- |
| Format | Mat | Inns | Balls | Runs | Wkts | BBI | BBM | Avg | Eco | SR | 4w | 5w | 10w |
| First Class | 48 | 83 | 7924 | 3816 | 132 | 6/32 | 7/79 | 28.90 | 2.88 | 60.0 | 4 | 4 | 0 |
| ODIs | 7 | 7 | 390 | 454 | 6 | 2/58 | 2/58 | 75.66 | 6.98 | 65.0 | 0 | 0 | 0 |
| T20Is | 10 | 9 | 197 | 235 | 13 | 3/17 | 3/17 | 18.07 | 7.15 | 15.1 | 0 | 0 | 0 |