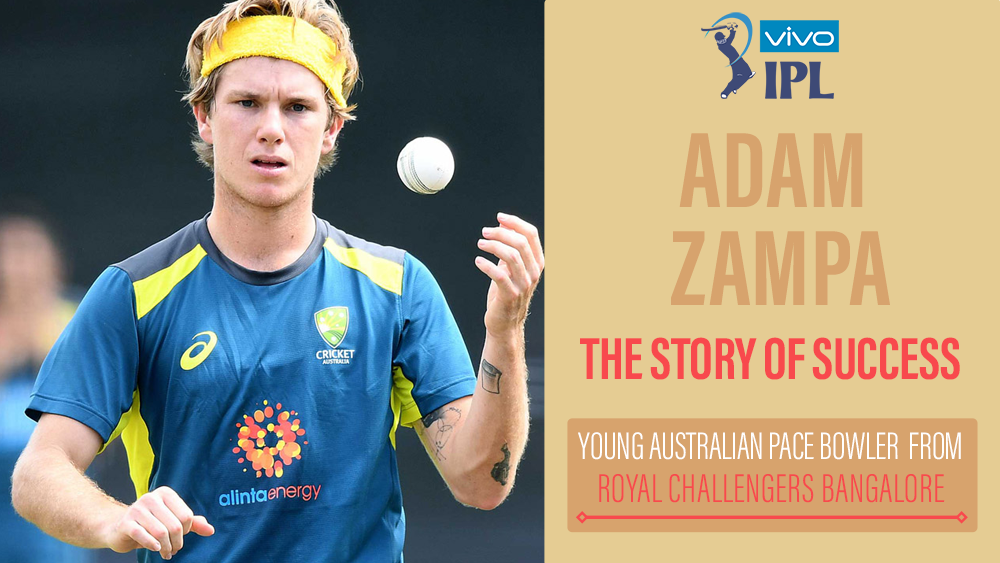 By taking the legacy of Shane Warne forward to the end, Adam Zampa is giving his classic sharp spins. No matter what batsman is in front of him, this young bowler never forgets to put his best. Till now, so many popular batsmen gave their wicket to this man and this man's idol. This young Australian pace bowler has secured a place in the Indian Premier League for so long. Adam Zampa has proven himself in the 2016 India T20 World Cup, ICC, and in some domestic games too.
IPL History
Adam Zampa first appeared in IPL in 2016. He played for Rising Pune SuperGiants. He is not a great batsman though. This right-handed batsman earned popularity by his fast-leg spin pace balls. Though he was in Rising Pune SuperGiants, later he joined Virat Kohli's team Royal Challengers Bangalore. At first, he was a replacement of Kane Richardson, and then he made his place as a worthy player. In 2016, he took a total of 12 wickets by giving only 115 runs, and in 2017, he took 7 wickets by giving 163 runs. After that, his appearance was seen in the 2020 IPL, held in the UAE.
IPL 2020
In 2020, Adam Zampa played for the team Royal Challengers Bangalore. He took a total of 2 wickets by giving 93 runs. It is the record of his last season. In IPL 2020, he completed a total of 21 wickets. Let's wait for IPL 2021.
IPL 2021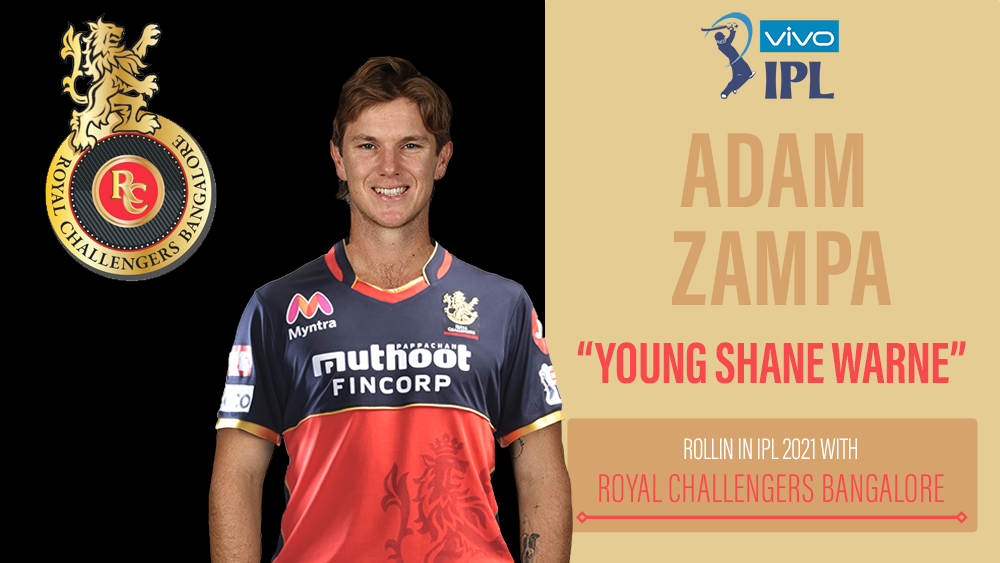 For the next season of IPL, Royal Challengers Bangalore has kept Adam Zampa for 1.5 crores. Everyone is expecting a great performance from this young right-handed fast bowler like last year.
The Teams He Played for
Since 2016, he has been playing for his national team. Adam Zampa's first debut was in 2016, against New Zealand. His first T20Is debut was in 2016 against South Africa. Apart from this, he has played for some domestic teams like New South Wales, South Australia, Sydney Thunders, Melbourne Stars, Rising Pune SuperGiants, Guyana Amazon Warriors, Jamaica Tallawahs, Adelaide Strikers, and lastly for Royal Challengers Bangalore.
Personal Life
This great leg-spin bowler was born on 31st March 1992. Since his childhood, he was more like the young Shane Warne. Not only from books but also from trying to carry the same willpower and bowling styles. At first, he was a pace bowler however due to some restrictions in the team, he mastered leg-spin. However, sometimes his pace bowling amazes us. The first appearance in professional cricket life was his U19 World Cup match in 2009.
Player's Stat
Batting and Fielding
| | | | | | | | | | | | | | | |
| --- | --- | --- | --- | --- | --- | --- | --- | --- | --- | --- | --- | --- | --- | --- |
| Format | Mat | Inns | NO | Runs | HS | Avg | BF | SR | 50 | 100 | 4s | 6s | Cat | St |
| First Class | 38 | 61 | 7 | 1177 | 74 | 21.79 | 1627 | 72.34 | 0 | 0 | 133 | 14 | 9 | 0 |
| ODIs | 61 | 27 | 7 | 128 | 22 | 6.40 | 214 | 59.81 | 0 | 0 | 8 | 1 | 11 | 0 |
| T20Is | 41 | 7 | 5 | 36 | 13 | 18.00 | 34 | 105.88 | 0 | 0 | 4 | 0 | 7 | 0 |
Bowling
| | | | | | | | | | | | | | |
| --- | --- | --- | --- | --- | --- | --- | --- | --- | --- | --- | --- | --- | --- |
| Format | Mat | Inns | Balls | Runs | Wkts | BBI | BBM | Avg | Eco | SR | 4w | 5w | 10w |
| First Class | 38 | 66 | 7697 | 5068 | 105 | 6/62 | 10/119 | 48.26 | 3.95 | 73.3 | 3 | 2 | 1 |
| ODIs | 61 | 61 | 3248 | 3004 | 92 | 4/43 | 4/43 | 32.65 | 5.54 | 35.3 | 3 | 0 | 0 |
| T20Is | 41 | 40 | 845 | 975 | 43 | 3/14 | 3/14 | 22.67 | 6.92 | 19.6 | 0 | 0 | 0 |