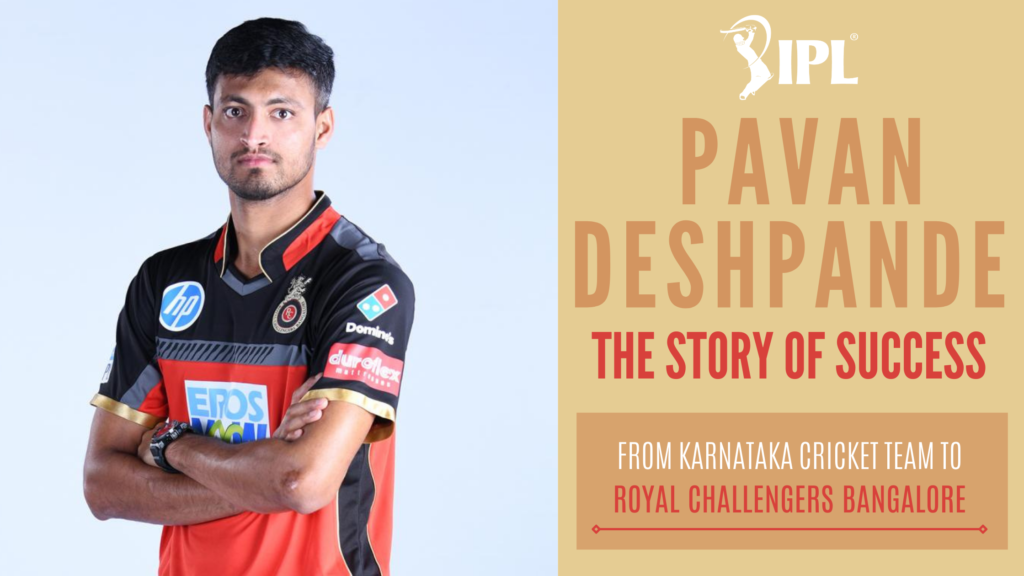 Pavan Deshpande, a Karnataka-born cricketer who bats left-handed and bowls right-arm off-break. He is an all-rounder for the Karnataka Cricket team, the full name of this cricketer is Pavan Uday Deshpande. He is 32 years old and was born on 16 September 1989. The player made his debut in first-class cricket for Karnataka in the Ranji Trophy 2016-17 season. He has been constantly performing well since then but didn't get a chance to prove himself on the big stage.
He also played in Vijay Hazare Trophy for Karnataka. Pavan registered himself in the auction of IPL of 2018 season and fortunately, he has been bought by Royal Challengers Bangalore that year. However, he didn't get a game in that season. In the 2020 auctions, RCB again bought this all-rounder and he has been with this team since 2018 but is still waiting for a game.
IPL History
Pavan Deshpande is a renowned name and has performed relatively well in domestic cricket. He has been purchased by the Royal Challengers Bangalore in the 2018 season's auction but didn't give him a chance to prove himself on the big level. He has been retained by Bangalore in 2021, and it will be interesting to see whether he gets a game this year or not.
IPL 2020
In the 2020 season of IPL, he was purchased by Royal Challengers Bangalore as a spin all-rounder, but he didn't play any match in that season.
IPL 2021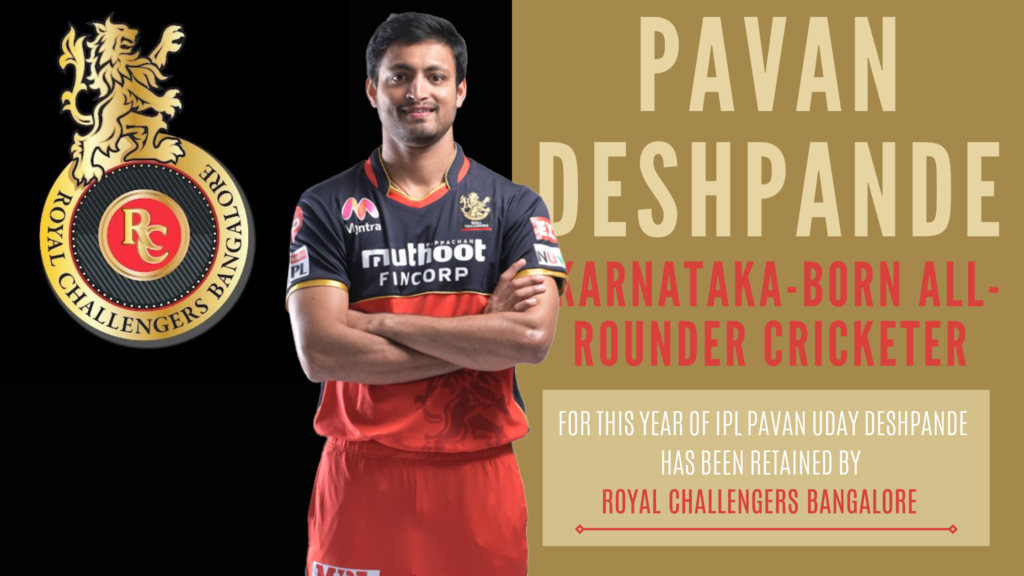 Pavan Uday Deshpande has been retained by Royal Challengers Bangalore this year of IPL too. But, still, it's uncertain whether he will be able to take his place in the playing XI or just warm the benches.
The Team's He Has Played For
Pavan Deshpande has played for Karnataka, Shivamogga Lions, Bellary Tuskers, Bengaluru Blasters, and South Zone so far, but this year in IPL 2021 he can make his IPL debut by playing for Royal Challengers Bangalore.
Personal Life
Pavan Deshpande is a Karnataka-born cricketer and he is just 32 years old.
Career Stats
| | | | | | | | | | | | | | | |
| --- | --- | --- | --- | --- | --- | --- | --- | --- | --- | --- | --- | --- | --- | --- |
| Format | Mat | Inns | NO | Runs | HS | Avg | BF | SR | 100 | 50 | 4s | 6s | Cat | St |
| First Class | 8 | 12 | 2 | 255 | 70 | 25.5 | 555 | 45.9 | 0 | 2 | 28 | 3 | 6 | 0 |
| List A | 23 | 22 | 1 | 777 | 95 | 37 | 804 | 96.6 | 0 | 7 | 77 | 15 | 5 | 0 |
| T20s | 23 | 18 | 6 | 463 | 63 | 38.58 | 320 | 144.6 | 0 | 3 | 36 | 17 | 7 | 0 |
| | | | | | | | | | | | | | |
| --- | --- | --- | --- | --- | --- | --- | --- | --- | --- | --- | --- | --- | --- |
| Format | Mat | Inns | Balls | Runs | Wkts | BBI | BBM | Avg | Eco | SR | 4w | 5w | 10w |
| First Class | 8 | 10 | 565 | 302 | 14 | 3/5 | 6/93 | 21.5 | 3.2 | 40.3 | 0 | 0 | 0 |
| List A | 23 | 8 | 162 | 139 | 2 | 1/10 | 1/10 | 69.5 | 5.1 | 81 | 0 | 0 | 0 |
| T20s | 23 | 11 | 117 | 163 | 4 | 2/34 | 2/34 | 40.7 | 8.3 | 29.2 | 0 | 0 | 0 |