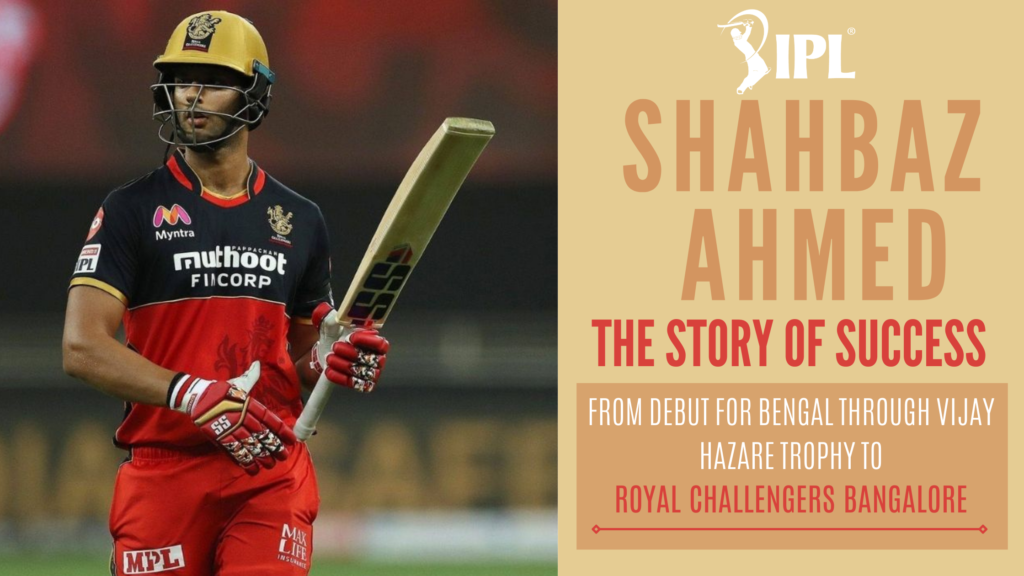 In a T20 game, a team is always craving for an all-rounder who can give them a good strength in batting as well as throw some decent spells in bowling. Shahbaz Ahmed is one such player who can do both very well and this is the reason why he has been bought by Royal Challengers Bangalore in the 2020 IPL season and they have retained this all-rounder for this year too.
Shahbaz Ahmed was born on 12 December 1994 in Mewat, Haryana. However, he made his cricketing debut for Bengal, and it's an interesting thing too. He came into Vijay Hazare Trophy in the 2017-18 season playing for Bengal Cricket Team. He also made his Ranji debut for the Bengal team in 2018. In 2019 he made his T20 debut in Syed Mushtaq Ali Trophy. Shahbaz is a flamboyant cricketer and hard-working player too who can give his best to his team Royal Challengers Bangalore.
IPL History
His full name is Shahbaz Ahmed Mewati and he is an all-rounder who bats left-handed and spins the ball too with his left-hand orthodox style. He was purchased by the Kohli-led XI last year and got only two chances to prove his worth in the IPL. He made his IPL debut against Rajasthan Royals. The stats of this player in IPL is not looking so promising, but it's certain that he will progress with time.
IPL 2020
In the 2020 IPL season, he was purchased by Royal Challengers Bangalore and he also played 2 matches in that season. However, he couldn't play up to his skill and got only 2 wickets in that two games.
IPL 2021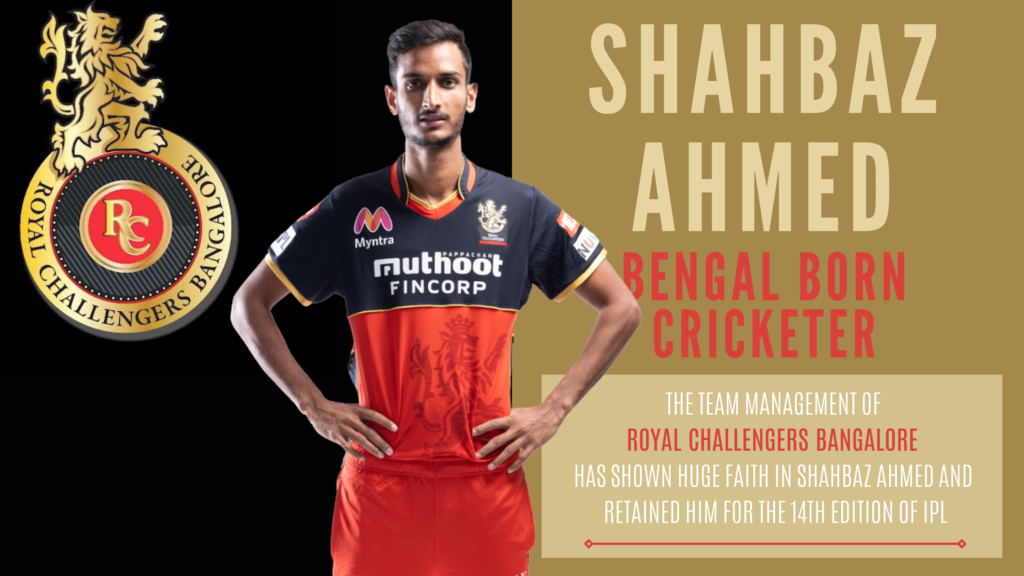 Despite a bad year of IPL for this Bengal cricketer, the team management has shown huge faith in this player and retained him for the 14th edition of IPL. Now the question of whether he can make himself to the playing XI or not.
The Team's He Has Played For
Shahbaz Ahmed has played for Bengal, India A, and Royal Challengers Bangalore.
Personal Life
Shahbaz Ahmed was born in Mewat, Haryana on 12 Dec 1994, and he is just 26 years old.
Career Stats
| | | | | | | | | | | | | | | |
| --- | --- | --- | --- | --- | --- | --- | --- | --- | --- | --- | --- | --- | --- | --- |
| Format | Mat | Inns | NO | Runs | HS | Avg | BF | SR | 100 | 50 | 4s | 6s | Cat | St |
| First Class | 13 | 19 | 2 | 559 | 82 | 32.8 | 1055 | 53 | 0 | 4 | 65 | 6 | 7 | 0 |
| List A | 21 | 16 | 5 | 435 | 107 | 39.5 | 485 | 89.7 | 1 | 1 | 29 | 13 | 7 | 0 |
| T20s | 23 | 13 | 5 | 180 | 60 | 22.5 | 151 | 119.2 | 0 | 1 | 13 | 5 | 13 | 0 |
| | | | | | | | | | | | | | |
| --- | --- | --- | --- | --- | --- | --- | --- | --- | --- | --- | --- | --- | --- |
| Format | Mat | Inns | Balls | Runs | Wkts | BBI | BBM | Avg | Eco | SR | 4w | 5w | 10w |
| First Class | 13 | 20 | 1536 | 668 | 37 | 7/57 | 11/101 | 18 | 2.6 | 41.5 | 2 | 1 | 1 |
| List A | 21 | 21 | 1014 | 755 | 18 | 3/35 | 3/35 | 41.9 | 4.4 | 56.3 | 0 | 0 | 0 |
| T20s | 23 | 23 | 438 | 500 | 21 | 3/22 | 3/22 | 23.8 | 6.8 | 20.8 | 0 | 0 | 0 |