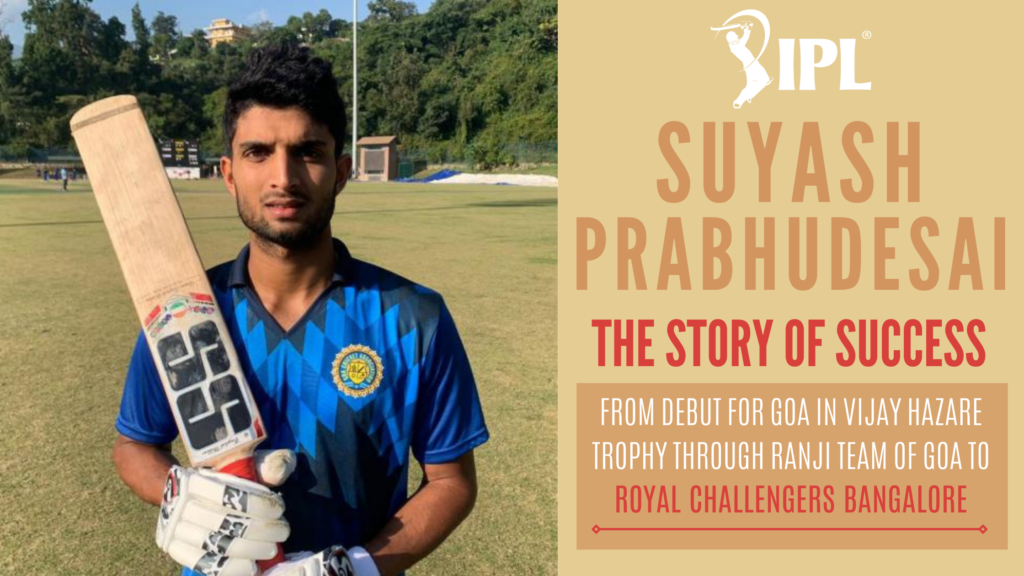 Suyash Prabhudesai is a pretty young sensation for Indian Cricket who plays for Goa. He was brought up in Goa, which is recognised as one of the best places to spend a vacation. His main role for the team is batsman, he bats right handed. He came into cricket when he made his debut for Goa in Vijay Hazare Trophy 2017. After that he also got selected in the Ranji Team of Goa after his magnificent performance in Vijay Hazare Trophy. He also got a chance to play Syed Mushtaq Ali Tournament for Goa in the year 2018-19.
IPL History
Suyash Prabhudesai is a young prodigy belonging to Goa, and he made his place in the recognised cricket tournament from 2017. Although, he never played in the biggest T20 league of the world. However, he put his name on the IPL 2021 Auction and has been bought by Royal Challengers Bangalore this year. It will be a dream chance for Suyash Prabhudesai to live his dream of representing team India.
IPL 2020
He didn't play the IPL 2020 edition as he did not put his name on the Vivo IPL 2020 auction.
IPL 2021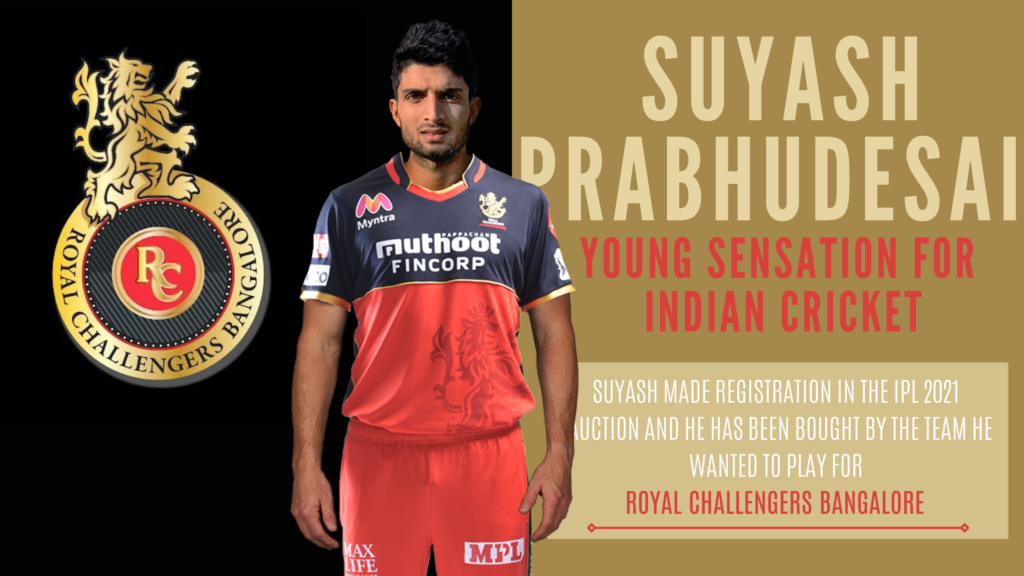 After the 2020 IPL season, Suyash made registration in the IPL 2021 player auction, and he got rewarded for that as he has been bought by the team under whom he wanted to play for, I.e, Royal Challengers Bangalore. He reckons Virat Kohli as his role model. Now it will be interesting to see how he can make himself to the playing eleven and gain the interest of Kohli. Just a finger crossed and excited to watch this mate playing for RCB.
The Team's He Has For
Suyash Prabhudesai has only played for Goa so far, but in this year of IPL we can get to see him play for Royal Challengers Bangalore.
Personal Life
Suyash Prabhudesai was born on December 6, 1997. He is just 23 years old and lived in Goa. He is unmarried yet.
Career Stats
| | | | | | | | | | | | | | | |
| --- | --- | --- | --- | --- | --- | --- | --- | --- | --- | --- | --- | --- | --- | --- |
| Format | Mat | Inns | NO | Runs | HS | Avg | BF | SR | 100 | 50 | 4s | 6s | Cat | St |
| First Class | 16 | 24 | 3 | 922 | 135 | 43.9 | 1617 | 57 | 1 | 6 | 127 | 9 | 21 | 0 |
| List A | 29 | 28 | 0 | 653 | 59 | 23.32 | 720 | 90.69 | 0 | 4 | 59 | 18 | 10 | 0 |
| T20s | 17 | 16 | 5 | 357 | 60 | 32.45 | 241 | 148 | 0 | 1 | 32 | 16 | 11 | 0 |
| | | | | | | | | | | | | | |
| --- | --- | --- | --- | --- | --- | --- | --- | --- | --- | --- | --- | --- | --- |
| Format | Mat | Inns | Balls | Runs | Wkts | BBI | BBM | Avg | Eco | SR | 4w | 5w | 10w |
| First Class | 16 | 8 | 194 | 132 | 4 | 2/34 | 2/51 | 33 | 4.08 | 48.5 | 0 | 0 | 0 |
| List A | 29 | 8 | 235 | 236 | 4 | 2/33 | 2/33 | 59 | 6.02 | 58.7 | 0 | 0 | 0 |
| T20s | 17 | 6 | 66 | 83 | 1 | 1/11 | 1/11 | 83 | 7.54 | 66 | 0 | 0 | 0 |