Jadeja is an Indian Cricketer who is popularly known as Jaddu or Rockstar. He is one of the most important all-rounders of the Indian cricket team. He is a left-handed batsman and in bowling, he bowls as a slow left-arm orthodox. He belongs to the Jamnagar district of Gujarat. There he was born in the city of Navagamghed on December 6, 1988. His father was a watchman in a private company. In his childhood, he was very scared of his father as his father wanted to make him a navy officer while he wanted to be what he is today, a cricketer. In the year 2016, he got married to Reeva Solanki and in the year 2017, he was blessed with a daughter child.
Test career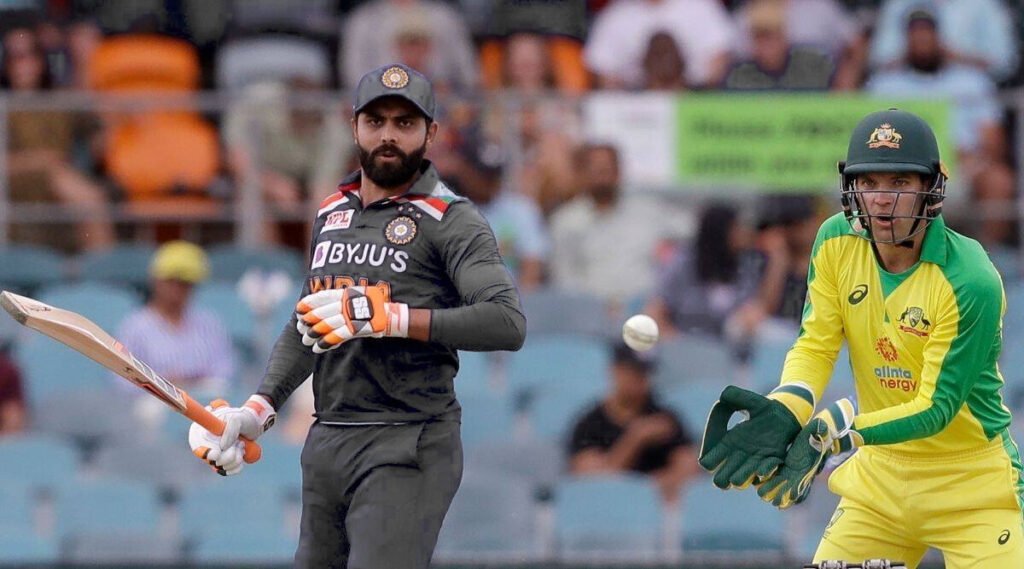 The Test career of Jadeja started 4 years later after the starting of the ODI career. He played his first test match against England in 2012. So far he has played a total of 49 test matches and has taken a total of 213 wickets. His bowling average in tests is 24.62. In 49 matches he has scored a total of 1869 runs with a batting average of 35.26. During those matches, he scored just one century and 14 half-centuries. His best bowling so far in a test match is 7 wickets after spending 48 runs.
ODI career
The ODI career of Jadeja started four years earlier as we knew above too. He played his ODI debut against Sri Lanka on 8th February 2009. His ODI shirt no. is 8 and his Test shirt number is also the same. In ODI, he has played a total of 169 matches so far and in these 169 matches, he scored a total of 2296 runs with a batting average of 31.89. In these many matches, he has taken a total of 187 wickets with a bowling average of 36.87. His best performance in the ODI matches was 5 wickets on just 36 runs.
T20I and IPL
Jadeja made his debut in the year 2009 against Sri Lanka. So far he has played a total of 49 T20 International matches and in these matches, he has taken a total of 39 wickets. The total runs made by him in these matches is 173. The batting average of him in T20 international matches was worse than Test matches and ODI. In T20I he made the runs with a batting average of 2.36 only. Now if we talk about his IPL career, it is going to be very good so far for him. In IPL he plays for the side of Chennai Super Kings.
Some Special facts
Jadeja was also part of the under 19 world cup team when the Indian under 19 team won the world cup in the year 2008 under the captaincy of Virat Kohli. In 2005 when his mother died, he was to leave his cricket career but after some time he handled the tough situation anyhow and continued playing cricket.