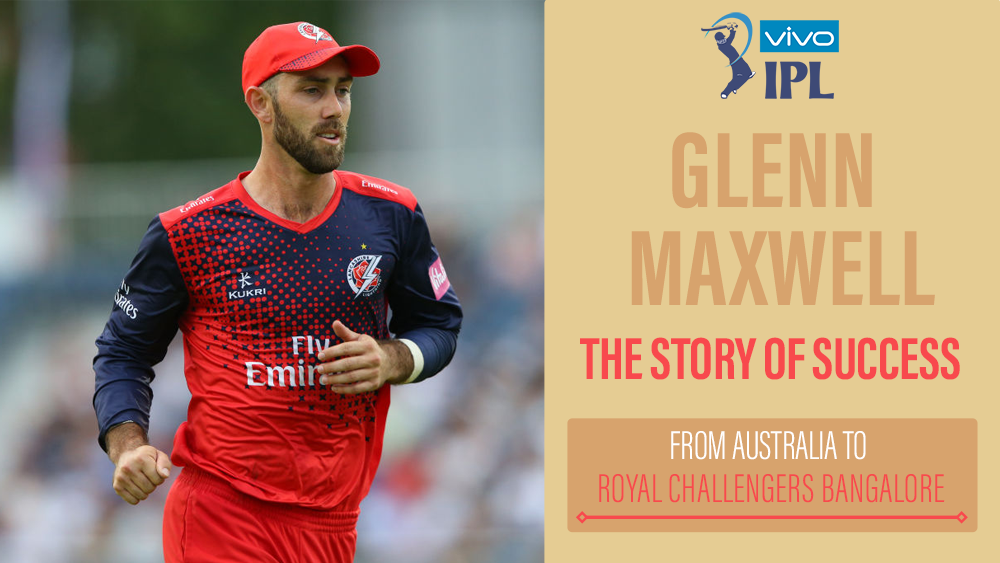 Glenn Maxwell is a name who has the power to give you the goosebumps even in the auction. In IPL every time his Fielding and bowling amaze us. But his strong point is his batting capacity. The word 'Destructive' is why it is used to address his batting style. This Australian player is teaming up with David Miller and playing for King XI Punjab for a long time. This year, in 2021, again in the auction he was sold for 14.5 crores to Kings XI Punjab. Let's know about his contribution to IPL.
IPL History
In 2012, he first started his journey in the IPL. He teamed up with Delhi Daredevils and played only 2 matches. In 2014, he became the most expensive player of the auction. He was bought by Mumbai Indians for $1 Million. In 2014, he was bought by Kings XI Punjab. That time the price was 6 crores. In 2015, with 552 runs with an average of 34.5, he became the third batsman for doing the highest runs in the season. For the next two seasons, 2016 to 2017, he disappointed his fans. In 2018, he was sold to Delhi Daredevils again.
IPL 2020
IPL 2020 has a great auction. The cold war between Delhi Daredevils and King XI Punjab for taking Glenn Maxwell in the auction was amazing. He was sold for 145 million INR for that season. He made only 101 runs and took 3 wickets.
IPL 2021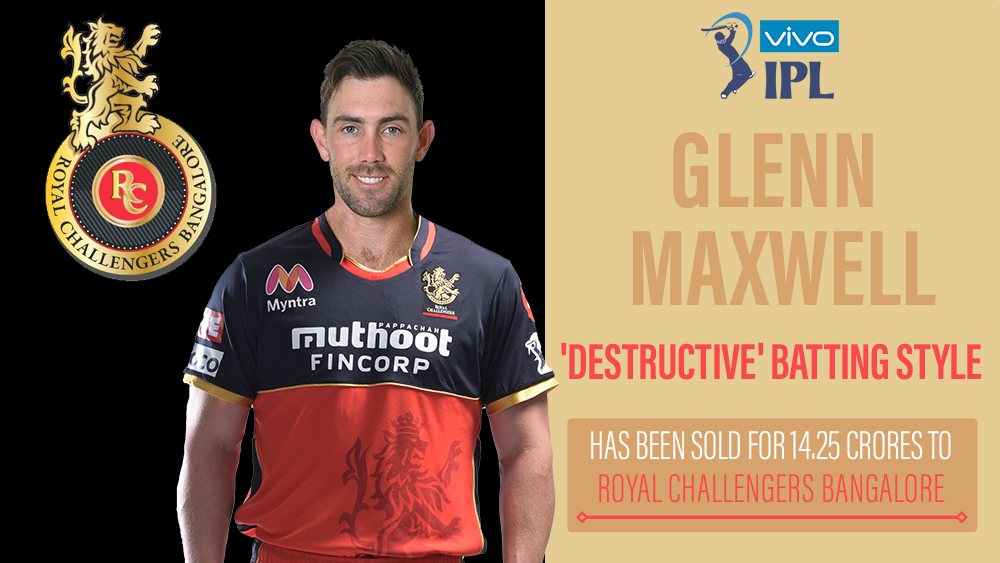 IPL 2021 is expected to be a great year for Glenn Maxwell. Because this year too, the auction fight for him was great. Chennai Super Kings and Royal Challengers Bangalore were showing a constant rivalry for Glenn Maxwell. Finally, he posted in Royal Challengers Bangalore for 14.25 crore INR.
He Played for The Teams
As you can see, it doesn't have any permanent team for the IPL. He played for Kings XI Punjab, Delhi Daredevils, and Royal Challengers Bangalore so far. Other than these, he played for some other domestic teams like Yorkshire, Lancashire, Surrey, Mumbai Indians, Melbourne Stars, Melbourne Renegades, Hampshire, and Victoria. He also represents his Australian cricket team in Test matches, ODIs, and T20Is.
Personal Life
On 14th October 1988, Glenn James Maxwell was born in Victoria, Australia. This 6 ft tall right-handed batsman is famous for his bowling and fielding too. That's what makes him an all-rounder so far. Apart from his nickname Maxi, he has another popular nickname to his fans, The Big Show. He started his cricket journey as a pace bowler and slowly turned into an off-spin bowler. Let's see how he performs in the 2021 IPL. Here is the start of his Records.
Player's Stat
Batting and Fielding
| | | | | | | | | | | | | | | |
| --- | --- | --- | --- | --- | --- | --- | --- | --- | --- | --- | --- | --- | --- | --- |
| Format | Mat | Inns | NO | Runs | HS | Avg | BF | SR | 50 | 100 | 4s | 6s | Cat | St |
| First Class | 67 | 112 | 10 | 4061 | 278 | 39.81 | 5536 | 73.35 | 23 | 7 | 459 | 63 | 55 | 0 |
| ODIs | 116 | 106 | 12 | 3230 | 108 | 34.36 | 2575 | 125.43 | 22 | 2 | 309 | 116 | 72 | 0 |
| T20Is | 72 | 35 | 9 | 1780 | 145 | 31.78 | 1120 | 158.92 | 9 | 3 | 147 | 93 | 35 | 0 |
Bowling
| | | | | | | | | | | | | | |
| --- | --- | --- | --- | --- | --- | --- | --- | --- | --- | --- | --- | --- | --- |
| Format | Mat | Inns | Balls | Runs | Wkts | BBI | BBM | Avg | Eco | SR | 4w | 5w | 10w |
| First Class | 67 | 98 | 5680 | 3174 | 77 | 5/40 | 6/76 | 41.22 | 3.35 | 73.7 | 3 | 1 | 0 |
| ODIs | 116 | 91 | 2840 | 2683 | 51 | 4/46 | 4/46 | 52.60 | 5.66 | 55.6 | 2 | 0 | 0 |
| T20Is | 72 | 47 | 648 | 811 | 31 | 3/10 | 3/10 | 26.16 | 77.50 | 20.9 | 0 | 0 | 0 |