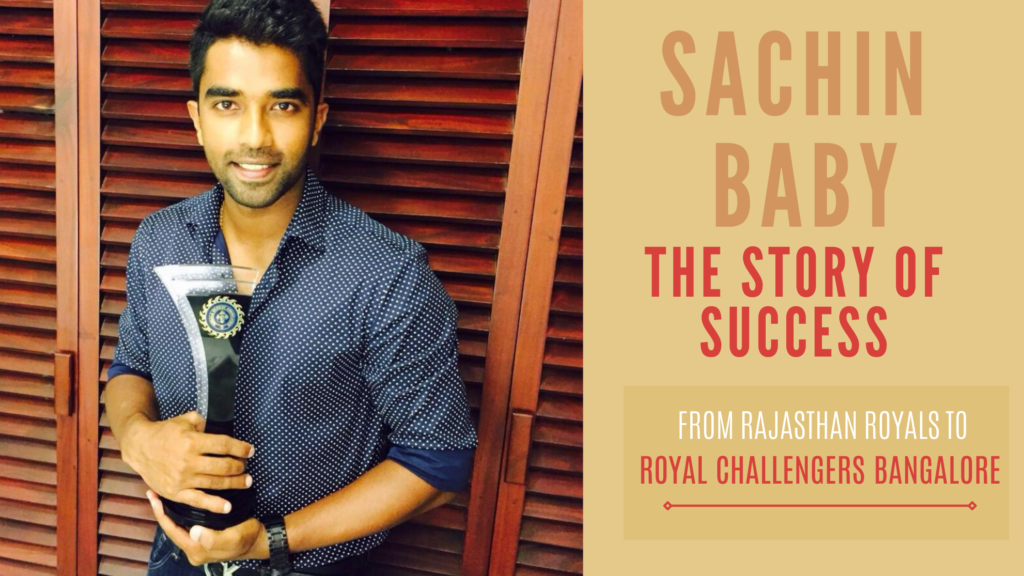 Sachin Tendulkar who is also known as the God of Cricket had smashed his first first-class century on 11 December 1988. A week later from this day, in Thodupuzjha a little boy was born to a PC Baby family, who was a huge cricket fan. As a result, he named his little child Sachin. He grew up in Kerala. Unlike the God, Sachin Tendulkar, this baby started playing cricket but with left-hand. Later, he was selected for the Kerala Cricket Team, and since 2009 he is a regular middle-order batsman for this team. He took around 25 matches to score his first first-class century, he scored an unbeaten 200 runs against Hyderabad.
IPL History
Sachin Baby has been selected by the Rajasthan Royals in the 2013 season of IPL, but unfortunately, he only gets a match to prove his worth in that season. In 2016, Royal Challengers Bangalore added him to their squad by purchasing him at the base price of 10 lakh. He played a few matches in that season too but could not play to his level. In 2018, he joined the Sunrisers Hyderabad team but rarely gets to play in that season also.
IPL 2020
He didn't play the IPL 2020 edition as he did not get selected by any team in this season.
IPL 2021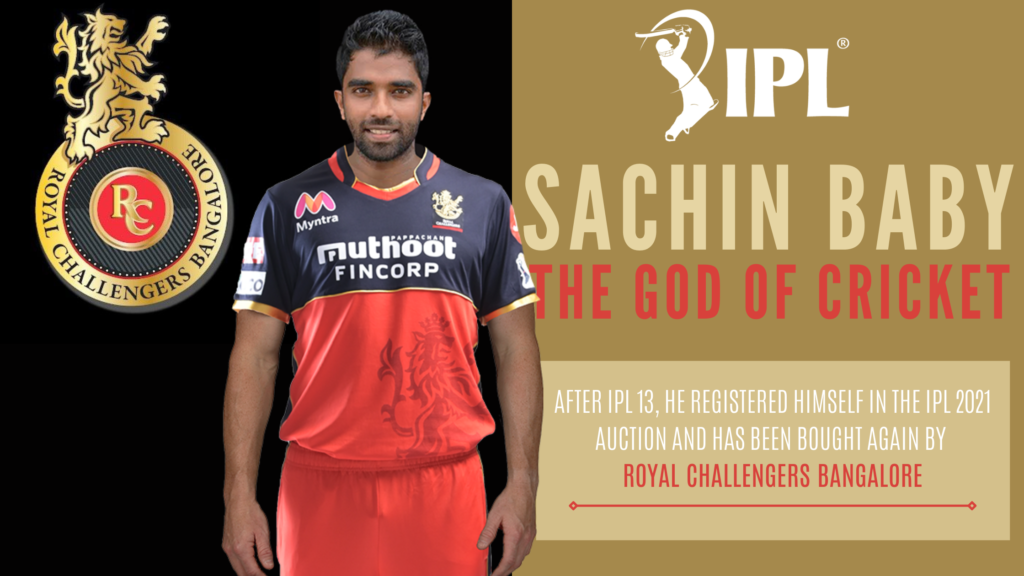 Luckily after IPL 13, he registered himself in the IPL 2021 player auction too, and he got rewarded for that as he has been bought again by his former team Royal Challengers Bangalore. Now it will be interesting to see how he can make himself to the playing eleven among so many talented cricketers.
The Team's He Has For:
Sachin baby has played for Kerala, India A, East Zone, Rajasthan Royals, Royal Challengers Bangalore, India B, Sunrisers Hyderabad, and South Zone.
Personal Life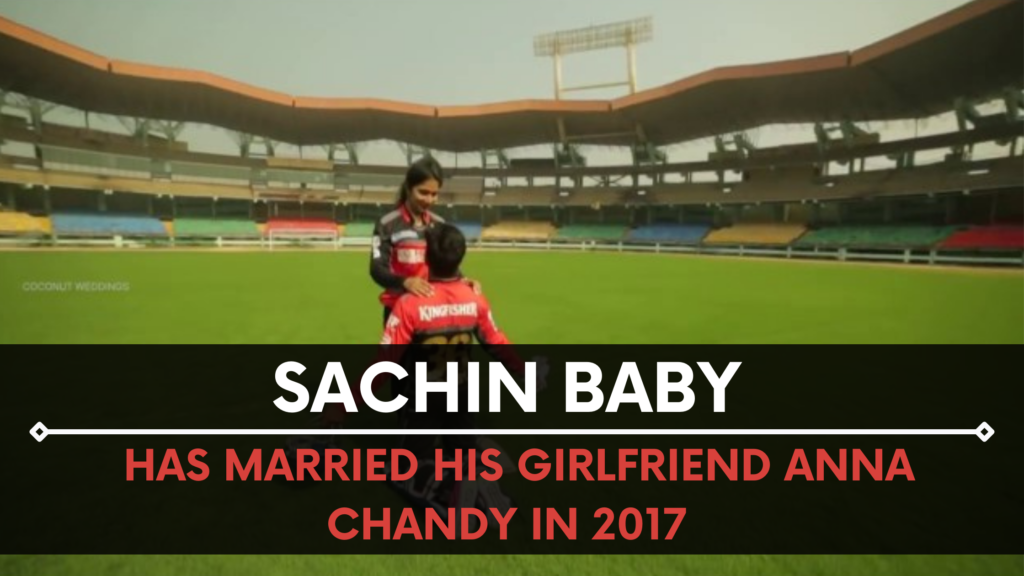 Sachin Baby has married his girlfriend Anna Chandy in 2017, and they were both blessed with a baby boy named Steve Sachin.
Career Stats
| | | | | | | | | | | | | | | |
| --- | --- | --- | --- | --- | --- | --- | --- | --- | --- | --- | --- | --- | --- | --- |
| Format | Mat | Inns | NO | Runs | HS | Avg | BF | SR | 100 | 50 | 4s | 6s | Cat | St |
| First Class | 72 | 112 | 8 | 3251 | 250 | 31.2 | 7480 | 43.4 | 6 | 14 | 324 | 36 | 67 | 0 |
| List A | 78 | 73 | 7 | 2618 | 127 | 39.6 | 3244 | 80.7 | 3 | 17 | 219 | 30 | 21 | 0 |
| T20s | 80 | 64 | 8 | 1499 | 79 | 26.7 | 1113 | 134.6 | 0 | 7 | 128 | 46 | 33 | 0 |
| | | | | | | | | | | | | | |
| --- | --- | --- | --- | --- | --- | --- | --- | --- | --- | --- | --- | --- | --- |
| Format | Mat | Inns | Balls | Runs | Wkts | BBI | BBM | Avg | Eco | SR | 4w | 5w | 10w |
| First Class | 72 | 34 | 882 | 466 | 10 | 3/24 | 3/24 | 46.6 | 3.17 | 88.2 | 0 | 0 | 0 |
| List A | 78 | 25 | 564 | 552 | 12 | 2/11 | 2/11 | 46 | 5.86 | 47.0 | 0 | 0 | 0 |
| T20s | 80 | 14 | 176 | 228 | 7 | 2/4 | 2/4 | 32.5 | 7.77 | 25.1 | 0 | 0 | 0 |