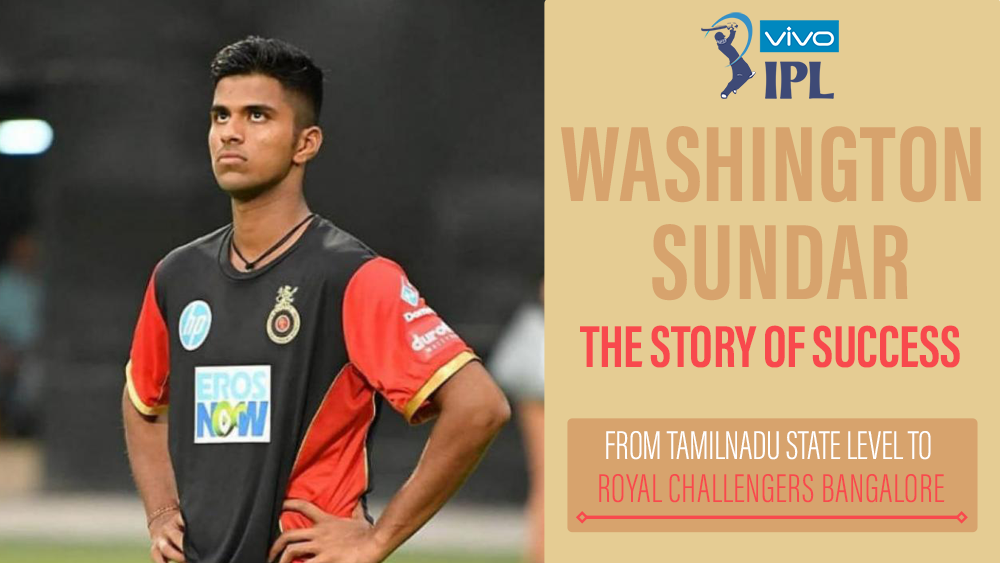 When it comes to the list of India's Next-generation players, Washington Sundar will have the top position on it. An 18-year-old boy from Tamilnadu has shown a great performance in U19 matches. It's worth mentioning, Behind his remarkable success, there is a person who helped him a lot, his mentor PD Washington. Washington Sundar's father let him put the name of his mentor with him. He is a star player of Rising Pune SuperGiants. This left-handed batsman did everything to make India proud in the U19 World Cup.
IPL History
Having a Three-dimensional player is a gift to the team. And Washington Sundar is a three-dimensional player. He was unsold for so many years. But finally, in 2017, he got the chance to play for Rising Pune SuperGiants. He was taken as a replacement for Ravi Ashwin. However, through the season, he was able to prove himself to the observers. He is an amazing left-handed batsman however he is a great off-spin bowler. He took a total of 8 wickets in 11 matches which brought him to the limelight. A great player like Virat Kohli appreciated his performance too. The very next year, in 2018, in the auction he was sold for 3.2 crores to RCB.
IPL 2020
In 2020, Washington Sundar was playing for RCB under Virat Kohli's captaincy. He showed amazing results both in batting and bowling. He made a total of 111 runs with a striking rate of 116.8 and an average of 18.5. With his bowling skills, he took a total of 8 wickets.
IPL 2021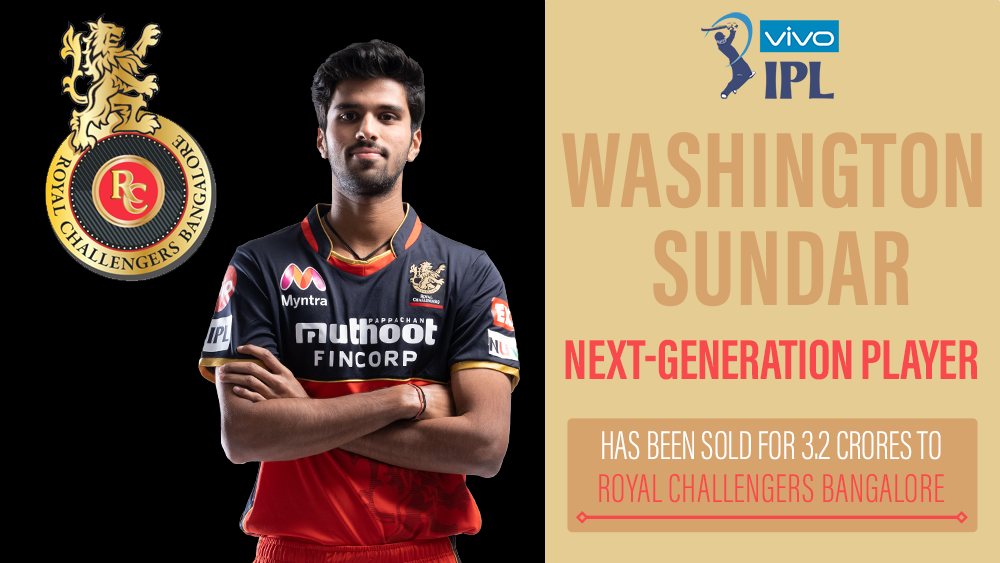 Again in 2021, Washington Sundar is being sold to RCB for 3.2 crores. It is expected to see another excellent performance by him.
The Team He Played for
In ODI and test matches by representing the team India U19 squad, he made his first appearance globally. Again, within some domestic matches like IPL, he played for Rising Pune SuperGiants and Royal Challengers Bangalore. Before coming to the state level, he played for the state level from Tamilnadu.
Personal Life
On 5th October 1999, he was born in Chennai, Tamilnadu. His nickname is Washi. Being an all-rounder makes him popular within a few years of his journey. Her sister is also very passionate about cricket. Her sister, Shailaja Sundar is also a professional-level cricketer. He had done his studies at St. Bede's Anglo Indian Higher Secondary School. He has become the youngest player to the debut Indian T20Is.
Player Stats
Batting and Fielding
| | | | | | | | | | | | | | | |
| --- | --- | --- | --- | --- | --- | --- | --- | --- | --- | --- | --- | --- | --- | --- |
| Format | Mat | Inns | NO | Runs | HS | Avg | BF | SR | 50 | 100 | 4s | 6s | Cat | St |
| First Class | 16 | 23 | 2 | 797 | 159 | 37.95 | 1516 | 52.57 | 5 | 1 | 90 | 13 | 7 | 0 |
| ODIs | 1 | 0 | 0 | 0 | 0 | 0 | 0 | 0 | 0 | 0 | 0 | 0 | 1 | 0 |
| T20Is | 29 | 10 | 4 | 43 | 14 | 7.16 | 30 | 143.33 | 0 | 0 | 3 | 3 | 8 | 0 |
Bowling
| | | | | | | | | | | | | | |
| --- | --- | --- | --- | --- | --- | --- | --- | --- | --- | --- | --- | --- | --- |
| Format | Mat | Inns | Balls | Runs | Wkts | BBI | BBM | Avg | Eco | SR | 4w | 5w | 10w |
| First Class | 16 | 27 | 2266 | 1107 | 36 | 6/87 | 11/181 | 30.75 | 2.93 | 62.9 | 1 | 2 | 1 |
| ODIs | 1 | 1 | 60 | 65 | 1 | 1/65 | 1/65 | 65.00 | 6.5 | 60.0 | 0 | 0 | 0 |
| T20Is | 29 | 28 | 591 | 685 | 25 | 3/22 | 3/22 | 27.40 | 6.95 | 23.6 | 0 | 0 | 0 |