Yuvraj Singh was born to Yograj Singh and Shabnam Singh on 12th December 1981. His nickname was Yuvi. In childhood, his favorite sports are tennis and roller skating. He is so good at both of these games. He also won the championship in roller skating. But his father advised him to forget about roller skating and told him to concentrate on cricket. So, his father took him to train every day. He successfully completed his school life in DAV Public school. After school, he studied Commerce degree at DAV College, Chandigarh. In November 2015, he married Hazel Keech.
Popular Cricketer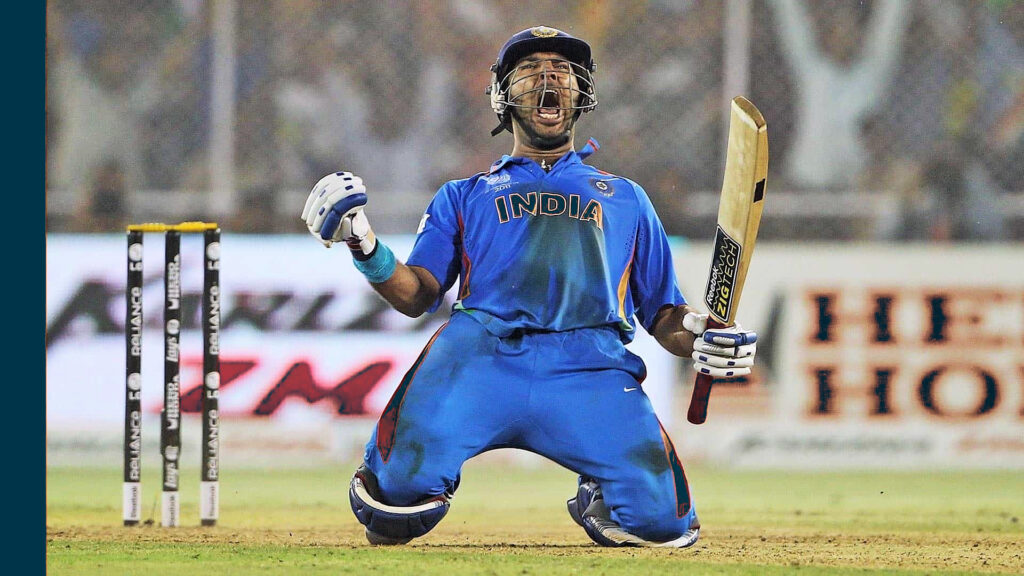 Yuvraj Singh is a former Indian cricketer who played in all formats of the game internationally. He bats left-handed and also an all-rounder in matches. He was very popularly known for his aggressive stroke play of the ball and fielding. He made his debut in the last ODI on 30th June 2017 against West Indies. His ODI shirt number is 12. Yuvraj Singh has the second-highest rate of effecting a run out in ODI matches.
Achievements and Honours
Hit six sixes in a single over in ICC World T20 match (2007).
Yuvraj Singh as Man of the Tournament in ICC Cricket World Cup (2011).
In 2007, he made the record for the fastest T20 fifty by scoring it in 12 balls.
Yuvraj Singh was awarded with "Arjuna Award" by the Indian President in 2012.
"Padma Shri" Award in 2014.
"FICCI Most Inspiring Sportsmen of the Year" in 2014.
Other than Cricket
Yuvraj Singh became a brand ambassador of video game console "Xbox 360" by Microsoft company in 2006. With Bollywood actor Akshay Kumar, he appeared in advertisements for the console. Yuvraj Singh features as the main protagonist for the upcoming animated film "Captain India". He is also involved in sports-based e-commerce. Yuvraj Singh is a brand ambassador for "sports365.in" and sports brand "Puma". In 2013, he was a brand ambassador of the "Ulysse Nardin" watch company. Yuvraj Singh has his own charity "YouWeCan", which has treated more than hundreds of cancer patients. With Jayakrishnan (The founder of Heyyo Media) he initiated Nationwide cancer awareness programs. He participated in 'Celebrity Clasico 2016' to generate funds for charitable initiatives.
The First Indian to play T20
After Sachin Tendulkar, he was the only Indian to represent the "Yorkshire" county team. Against Leicestershire, Yuvraj Singh's season started notably with 71 off 37 in T20 matches. Along with Mohammad Kaif and Virender Sehwag, he became the first Indian player to play a T20 cricket match.
Unique Distinction
Yuvraj Singh has been a part of three successful World Cup campaigns. He is the only Indian cricket player in history to make this record. He is the first all-rounder to take 15 wickets and more than 300 runs in a single season of the World Cup and also the first Indian cricket player to reach 100 sixes in T20 matches. He became the most expensive cricket player worth 16 crores in 2015. Also, he wrote down his autobiography titled: The test of my life: From Cricket to Cancer and Back.