Devdutt Padikkal is a renowned name when it comes to the U19 India Squad. He presented his
best form of batting during the matches. Devdutt Padikkal is a left-handed batsman and a
master of offies in bowling. He is used to starting as the opening pair along with Aaron Finch for
the team Royal Challengers Bangalore in IPL. Though he didn't get too many opportunities to
show his performance in IPL, those who follow domestic cricket, know who Devdutt Padikkal is.
His batting skills especially the strokeplay will amaze you.
IPL History
Devdutt Padikkal has started his journey through state-level cricket matches. A domestic T20
match was held in Karnataka in 2017. For the first time in his life, he has shown such a great
show by hitting 72 of 53 balls. Again in the U19 cricket Coach Behar tournament, he made an
829 run which was the 4th highest run. Under the coaching of Rahul Dravid, he made himself
worthy to be selected for IPL matches. Royal Challengers Bangalore bought him for 20 lacs. In
2019, he didn't get the opportunity to show himself.
IPL 2020
Devdutt Padikkal was the first person who made 50+ runs in 3 matches out of 4 matches in IPL
2020. Such progress for a beginner amazed the captain himself.
IPL 2021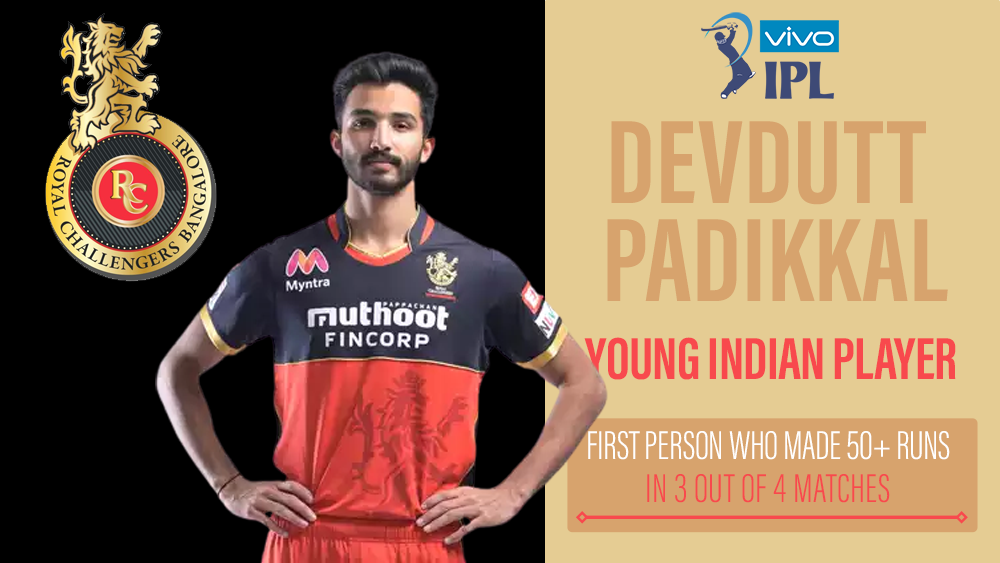 In the 15rh season of IPL, RCB again has chosen Devdutt Padikkal in their list. Because of his
473+ runs in last season, he was retained for IPL 2021 again.
What are The Teams He Played for?
This left-handed batsman started his journey from the state level. But before that, he played so
many matches here and there. His name came to the front of everyone when he joined Bellary
Tuskers in 2017. As a U16 player, he successfully drew the attention of all the fans.
Again in 2018, when he joined the Karnataka state-level team of T20 matches, he stood up to
everyone's expectations by scoring 72 runs in 53 balls.
In 2019, he joined Royal Challengers Bangalore as an opening batsman. This was his first time
appearing in the IPL. He was chosen for 2020 IPL because of his last season's performances. In
the auction of the 2021 IPL, he was selected by RCB. Let's wait for his performance again.
Devdutt Padikkal's Personal Life
On 7th July of 2000, he was born in Edappal in Kerala. After completing his education from St.
Joseph Boys High school and completing his graduation from St. Joseph's College of Commerce,
he pushed himself in his favorite sport. He started coaching under Rahul Dravid. And results are
in front of us.
Career Stats
Batting and Fielding
| | | | | | | | | | | | | | | |
| --- | --- | --- | --- | --- | --- | --- | --- | --- | --- | --- | --- | --- | --- | --- |
| Format | Mat | Inns | NO | Runs | HS | Avg | BF | SR | 100 | 50 | 4s | 6s | Cat | St |
| First Class | 15 | 29 | 3 | 907 | 99 | 35.88 | 1794 | 50.55 | 0 | 10 | 106 | 6 | 12 | 0 |
| T20Is | 33 | 33 | 4 | 1271 | 122 | 43.82 | 871 | 145.92 | 1 | 11 | 133 | 50 | 18 | 0 |
Bowling
| | | | | | | | | | | | | | |
| --- | --- | --- | --- | --- | --- | --- | --- | --- | --- | --- | --- | --- | --- |
| Format | Mat | Inns | Balls | Runs | Wkts | BBI | BBM | Avg | Eco | SR | 4w | 5w | 10w |
| First Class | 15 | 2 | 12 | 6 | 0 | 0 | 0 | 0 | 3.00 | 0 | 0 | 0 | 0 |
| T20Is | 33 | 0 | 0 | 0 | 0 | 0 | 0 | 0 | 0 | 0 | 0 | 0 | 0 |